Former Kansas University point guard Kevin Pritchard said Saturday's 73-46 rout of Kentucky reminded him a bit of a game he played in - KU's 150-95 rout of the Wildcats in 1989.
"Back then, after the first two minutes I felt we'd win, that we were in control the whole day. I felt the same way today," Pritchard, the Portland Trail Blazers' director of player personnel, said from his end-zone press-row seat.
"It seems like the pieces are starting to come together. It was great offense. The defense was so good it raised the level of intensity, which helps the offense."
¢ Gift for Dickie V: KU athletic director Lew Perkins presented ESPN's Dick Vitale with a bronze Jayhawk in a halftime ceremony honoring Vitale for being a goodwill ambassador for college hoops.
Vitale likes KU's team.
"As the freshmen get used to the level of college competition, this team really has a chance to win a lot of games in the Big 12," he said. "Don't forget, Texas and Oklahoma - considered the superheavyweights in the conference - have had their ups and downs, too."
Photo Gallery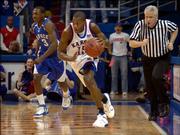 KU vs. Kentucky
¢ Recruits: Darrell Arthur, a 6-foot-9 high school senior from Dallas' South Oak Cliff High, did not attend as previously planned. He still is considering KU, Indiana and Baylor. Cole Aldrich, a junior center from Bloomington, Minn., who has committed orally to KU, attended, as did signee Brady Morningstar. Tyrel Reed, a junior guard from Burlington who is considering KU, North Carolina and others, attended. Former KU players Jeff Graves and Brett Olson also were on hand, as were Brandon Rush's brothers JaRon and Kareem.
¢ Creative fans: Spectators brought a bundle of banners. They included: "Ashley, I saved a seat for you," "Where's Ashley At?," "Even Smith Prefers Naismith," "Jayhawks equal Wildcat Killers, Just Ask K-State." Actress Ashley Judd saw one banner and smiled and waved at the fan.
¢ Stats, facts: Patrick Sparks, who was 0-for-5 with no points, has made three of his last 21 shots. : Ramel Bradley went 0-for-8 after scoring 34 points in two games. : With 3:54 left in the first half, Brandon Rush and Kentucky each had 14 points. : It was the most lopsided loss in the Tubby Smith Era at UK, topping a 26-point loss (79-53) to Indiana this season . : KU is 7-0 when scoring 73 or more points. : KU shot 50 percent for the fourth straight game. : UK's five assists were fewest by a KU foe since Texas registered five dimes on Jan. 29, 2005. UK's 24.2 field-goal percentage is lowest by a KU foe since Oklahoma State shot 23.1 on March 7, 1999. : UK's zero assists in the first half were fewest since Cornell's zero in the second half on Jan. 2, 1996. : KU has won six straight games.
¢ No conversation for coach: KU coach Bill Self grinned when asked if he spoke to Judd, UK's biggest fan, who sat behind the Wildcat bench next to coach Tubby Smith's wife, Donna.
"I didn't see her or talk to her. After the game when I was shaking hands (with Wildcats), I did gaze into the crowd. I didn't see anybody. I heard she was there. I had my list of the top films I felt she's performed the best in, in case the conversation ever came up."
What's Self's favorite?
"Time to Kill," he said.
¢ High flier: Russell Robinson had a vicious block of a Patrick Sparks layup attempt in the second half. Robinson's defensive intensity in guarding Rajon Rondo seemed to set the tone for the Jayhawks all day.
"I just play like that," Robinson said. "I'm not a big dunker, but I do play like that to infuse excitement with the crowd."
¢ No Morris: Self was asked if he would have felt better about the victory if suspended UK forward Randolph Morris had played. Morris, who had to sit 13 games for affiliating himself with an agency while considering entering the NBA Draft, will be eligible Tuesday against Vanderbilt.
"I like this. I thought it worked out just fine," Self quipped. "If it had to be 13 games, I'd have been cool with it. Since it's 14 games I didn't lose any sleep over it."
Copyright 2018 The Lawrence Journal-World. All rights reserved. This material may not be published, broadcast, rewritten or redistributed. We strive to uphold our values for every story published.