Learning how to win close games is an art that comes with experience.
Apparently, so is learning how to finish a blowout.
So forgive the Free State High boys basketball team for its inability to color between the lines Friday night in its first crack at such an opportunity.
Free State allowed a comfortable 18-point fourth-quarter lead to whittle all the way to six before finally putting its foot down, ultimately closing out a 64-55 victory over Olathe North.
"Nothing's going to come easy with this bunch," said Free State coach Chuck Law, who earned his first home victory as the Firebirds' boss. "We've talked all along about how we have to be the type of team that scratches and claws for everything we're going to get."
After spotting Olathe North (3-4 overall, 0-2 Sunflower League) an early five-point lead, Free State (3-4, 1-1) broke the game open with a 16-4 run bridging the second and third quarters and grew the margin to 56-38 on a Christian Ballard bucket early in the final frame.
Photo Gallery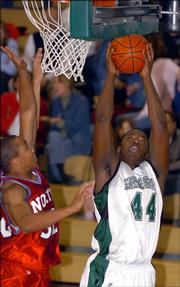 Boys: FSHS v O-North 1-6-06
Then came the dilemma of how to keep the cozy cushion.
"That's a difficult balance when you have to use the clock as an ally, but still attack," said Law, who watched his squad pass up a handful of good looks in an effort to burn the final few minutes.
The numbers say the Firebirds should have kept firing. Free State shot 58.3 percent from the floor (28-of-48), enjoying a number of good looks after weaving through Olathe North's full-court pressure.
Kyle Schreiner finished with a team-high 14 points, while David Green came off the bench to score 12.
The result is a tidy two-game winning streak sandwiched around the holiday break.
"We talked about not making Lawrence High our whole season," said Schreiner, referring to Free State's victory over its rival Dec. 22. "We really came back over the break and worked hard."
Free State girls 70, Olathe North 16
Photo Gallery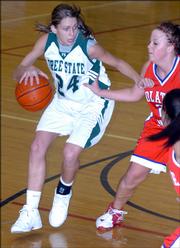 Girls: FSHS v O-North 1-6-06
The extra practice time also paid off for the Free State girls, who weren't bashful about banking a blowout. The Firebirds outclassed Olathe North in every way, waltzing to a 70-16 victory.
Nine different players scored for Free State (4-3, 1-1), paced by Lauren Kimball, whose 16 points matched the final output for the Eagles (0-8, 0-2).
"Tonight was a good night for everyone to realize what they can do and get their confidence up," Kimball said.
It also allowed Free State coach Bryan Duncan to work on a few wrinkles that might otherwise get overlooked in a nip-and-tuck affair.
"I was really proud of our girls. We stayed focused all four quarters and we were able to execute some things in the second half rather than play sloppy basketball," Duncan said. "That's going to pay off for us in the long run."
Copyright 2018 The Lawrence Journal-World. All rights reserved. This material may not be published, broadcast, rewritten or redistributed. We strive to uphold our values for every story published.