A collision Friday morning involving two cars and a tractor-trailer led to an all-too-familiar accident scene on U.S. Highway 24-59 north of Lawrence.
Traffic and emergency vehicles and crews clogged the highway about two miles north of Lawrence near the Midland Junction during the morning rush hour.
The driver of one of the cars, identified by the Kansas Highway Patrol as Arturo Mondragon-Vazquez, 27, Merriam, was taken by helicopter ambulance to University of Kansas Hospital in Kansas City, Kan. His condition was unavailable late Friday.
No one else was injured.
The accident occurred at 6:30 a.m. when a 1991 Ford Escort driven by Mondragon-Vazquez traveled left of the center line and struck the tractor-trailer driven by Ben E. Culbertson, 44, Iola. Both vehicles went into a ditch.
A 1998 Ford car driven by Zachery J. Buelt, 22, Oskaloosa, struck debris in the highway and came to a stop on a shoulder of the highway.
Mondragon-Vazquez was taken by ambulance to nearby Lawrence Municipal Airport where he was put aboard the helicopter.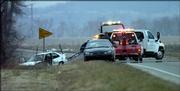 Douglas County Sheriff's officers and Lawrence-Douglas County Fire & Medical assisted Highway Patrol troopers at the scene. Sheriff's officers redirected traffic onto North 1900 Road and Douglas County Road 1045.
A few vehicles, however, ignored officers trying to direct traffic and drove around them. No citations were issued, but they could have been, Sheriff's Lt. Kari Wempe said. Officers are directing traffic to protect the safety of other law enforcement officials and medical crews at the accident, she said. It is also for the safety of motorists, she said.
"It is important that drivers who come on the scene follow the officers' directions and take the detour that gets them through," Wempe said.
The accident occurred on a curve that has been the scene of many head-on collisions and other types of wrecks over the years.
Copyright 2018 The Lawrence Journal-World. All rights reserved. This material may not be published, broadcast, rewritten or redistributed. We strive to uphold our values for every story published.