Kentucky's last trip to Allen Fieldhouse resulted in a Wildcat loss of epic proportions.
The Jayhawks' crazy 150-95 decision on Dec. 9, 1989, is the most points scored by a KU team and the most allowed by a UK squad.
It's a game that won't be forgotten by fans at the two tradition-rich schools - a game UK head coach Tubby Smith referenced to his team after Thursday's practice.
"That's his last memory," Kentucky forward Bobby Perry said Friday, referring to Smith. "He just said we've got to be mentally prepared, because it's a tough place to play."
Smith was an assistant on Rick Pitino's UK staff in 1989 but didn't attend that fated game because of recruiting responsibilities.
He and the Wildcats return for the first time since '89 today. Smith's No. 19-rated Wildcats (10-3) will tangle with the unranked Jayhawks (8-4) at 11 a.m., with a live telecast on ESPN (Sunflower Broadband Channel 33).
The game is a rematch - not so much of the 1989 contest, but of last year's game in which KU beat the Wildcats, 65-58, in Lexington, Ky.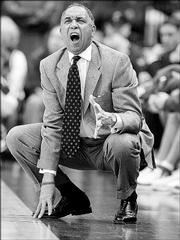 "Their big guys really beat us down the court. They outworked us," UK's Smith said of last season's game at Rupp Arena. "We didn't make the crucial play. We never seemed to get any flow. They're doing the same things. They push up the court. They attack you. I think their big men are even better than last year."
KU forward Christian Moody scored 11 points and grabbed seven rebounds, while fellow returning big men C.J. Giles and Sasha Kaun combined for 17 points and 10 boards at UK. Perry and Patrick Sparks led all returning UK players with 10 apiece.
The Jayhawks were playing without All-American Wayne Simien, who missed the game because of a thumb injury.
"I don't know," KU coach Bill Self said of how his squad won without Wayne. "We were lucky last year. We also played real tough.
"Wayne was out. Keith (Langford) got a concussion with 21â2 minutes left. Christian turned his ankle with two minutes left. C.J. fouled out, and Russell (Robinson) scratched his cornea and didn't play (second half). We finished the game with four less players than we started with plus Wayne.
"It came down to one play. A guy dribbled and fell down and threw the ball to his buddy, and he made a shot."
Indeed, Aaron Miles dished to best friend Michael Lee, who hit a three with 30 seconds left, upping a two-point lead to five.
"We don't have Simien this year, too. Hopefully, it means we will win (again)," KU senior guard Jeff Hawkins said with a smile. "I think players are ready for the challenge. No matter what any player says, it's something we've thought of since Boot Camp (preseason conditioning). It's one of our biggest games. We'll be ready."
Today, KU's Brandon Rush (11.8 ppg) and Kaun (10.9) and Kentucky guard Rajon Rondo (15.1 ppg) enter as the only combatants averaging double-digit scoring.
"I don't think there are many teams in America whose scoring looks like Kentucky's and Kansas,'' Self said. "Rondo is scoring points, and after that everybody is averaging around eight or nine. It's kind of how we are.
"We don't have many go-to guys we can run something for that night to get us a basket. We do it by whoever is playing well that night. It makes it a little tougher."
Both teams have been a bit inconsistent. The Wildcats, who have defeated ranked teams West Virginia and Louisville but lost to Indiana, North Carolina and Iowa, average 70.6 points while allowing 61.4. KU averages 75.4 points and allows 59.
"We need to raise our level of play. We'll need to play a lot better than we've been playing in order to compete against a great Kansas team," Smith said.
Self countered: "They will guard and will pressure. They will make it real difficult to get easy baskets. They'll fly around. Last year, it was a great defensive game. We didn't run good offense. We probably kept them from running good offense because both teams guarded so hard. I think we'll see a lot of the same Saturday."
Both teams are looking for a jolt of confidence entering conference play. KU travels Wednesday to Colorado; Kentucky meets Vanderbilt on Tuesday.
"I think this is one of the most important games this year. For one, it's Kentucky," Hawkins said. "After this, we start conference play. It'd be good to go into conference with a win, especially against a program like Kentucky."
Copyright 2018 The Lawrence Journal-World. All rights reserved. This material may not be published, broadcast, rewritten or redistributed. We strive to uphold our values for every story published.