Kansas University's men's basketball team, currently slotted 139th in the country in the RPI ratings, is in need of a marquee nonconference victory.
That victory - which coach Bill Self says would bolster his team's confidence entering Big 12 Conference play and, no doubt, would make the Jayhawks (8-4) seem a more attractive NCAA Tournament candidate on Selection Sunday - could come Saturday against No. 19-rated Kentucky.
Tipoff is 11 a.m. at Allen Fieldhouse.
"We still need a big feather in our cap," Self said Thursday at his weekly news conference. "You can gain confidence from winning games. You still have to beat somebody of national magnitude to really believe it's going to help you win a hard (conference) game.
"Kentucky has a couple of big wins. I'm sure they are looking at us as a high-quality win that would give them a lot of confidence, as well."
Kentucky, tapped No. 22 in the RPI - a formula used to gauge strength of teams based on multiple components - is 10-3 overall with victories over ranked teams Louisville and West Virginia. The Wildcats have lost to North Carolina, Iowa and Indiana.
The Jayhawks in the eyes of the NCAA computer have seven victories - the victory over Division II Chaminade has been thrown out. They have a quality victory against California, but have lost to St. Joe's, Nevada, Arkansas and Arizona.
Photo Gallery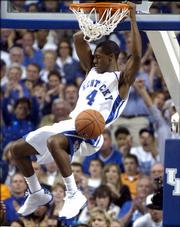 Kentucky Men's Basketball Team
from the Lexington Herald-Leader
"From a confidence standpoint, we'll talk about that," Self said of gaining a big victory Saturday. "You don't talk to your team in a way that puts pressure on them (saying), 'This is a win or else.' It's Jan. 7."
Self didn't address the RPI issue Thursday, though this week on his radio show he said: "Cal had a good weekend, winning at USC and UCLA.
"St. Joe's took Gonzaga to the last minute at Gonzaga and came up short. That would have been a good win for us if St. Joe's had pulled that off. It would have helped our RPI because our RPI needs help right now. We can do more to help ourselves than depending on others just by winning."
Self said he liked big nonconference battles like Saturday's.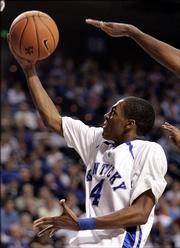 "Look at Texas. One of the reasons they won the national championship (in football) is they went to Ohio State and won. It made 'em tougher and harder from that. I still think you've got to step out there some.
"The great thing about our sport is there is a playoff. A game like this : whether it goes your way or not, it does not determine your season in any way, shape or form.
"This is an important game to fans and stuff. I don't know if it's as important as a conference game, at least in basketball where we have as many at-large teams (that make NCAAs). The emphasis is winning your league or conference tournament."
¢ Tubby talk: Kentucky coach Tubby Smith might have the most pressure-packed job in America.
"I would say Kansas is similar to Kentucky, but from all indications, people talking to me, Kansas is at the highest level, and Kentucky is able to take it a little bit higher when you talk about expectations," Self said. "We should not take a back seat to anybody as far as expectations or tradition or history. Kentucky with the wins and national championships, everything they have to offer : it's one of the premier programs in the country. They are there every year."
This year's game completes a home-and-home series.
"I certainly hope it's a game we can continue," Self said. "I know we'd like to play Kentucky on an annual basis. I hope they do too. There are a handful of programs that have what Kansas and Kentucky have. Very rarely do they get the opportunity to play each other. It does occur, but not always. It's what makes for a special game. We're trying to work out some stuff right now. Nothing is definite yet."
¢ Visitors: Darrell Arthur, a 6-foot-9 senior from South Oak Cliff High in Dallas, is expected to make an unofficial visit to KU for Saturday's game. He's considering KU, Indiana and Baylor. : KU signee Brady Morningstar, will attend the game on the official visit to which he's entitled. Also, Cole Aldrich, a 6-11 junior from Bloomington, Minn., who has committed to KU, will attend the game.
¢ No Morris: Kentucky will be without Randolph Morris, a 6-10 sophomore forward, for one more game. Morris was suspended by the NCAA for an eligibility issue regarding his associating with the sports agency SFX while considering entry in the NBA draft. Initially, he'd been suspended the whole season until new evidence was uncovered.
"It's great he'll be able to play," Self said. "It wouldn't have bothered me if he had been able to play against us. He deserves to play."
Copyright 2018 The Lawrence Journal-World. All rights reserved. This material may not be published, broadcast, rewritten or redistributed. We strive to uphold our values for every story published.