For nearly a half, Yale was locked in. Then the Bulldogs' one-point lead vanished in a whiffenpoof.
These were not poor little lambs who lost their way. These were simply basketball players who threw the ball away. Baa, baa, baa.
"We did a poor job of handling pressure," Yale coach James Jones said.
The Ivy Leaguers led 23-22 after 17 minutes, then scored only 23 points the rest of the way in falling to Kansas, 87-46, Wednesday night in Allen Fieldhouse.
Four straight Yale turnovers in the last three minutes of the first half helped the Jayhawks fashion a 14-0 run that essentially turned the game around.
Yale finished with 22 turnovers. The Bulldogs (7-7) came in averaging 19.3 giveaways per game.
"It's astounding we've been able to win games with so many turnovers," said Jones, in his seventh season at the prestigious New Haven, Conn., school. "We need to be a little stronger with the ball."
Photo Gallery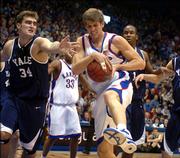 KU vs. Yale
Yale suffered its most lopsided defeat of the season. Until Wednesday, the club's worst loss had been an 87-60 shellacking at Bucknell, a school that needs no introduction to KU basketball fans.
Despite that late first-half sinking spell, Yale lagged by just 11 points (36-25) at the break. But then the Jayhawks went on another run during the first five minutes of the second half and left the 'Dogs for dead.
"We didn't do anything to stop them," Jones said.
Wednesday was a homecoming of sorts for Yale sophomores Nick and Caleb Holmes. The 6-foot-6 twins had helped Olathe South High fashion a 31-1 Sunflower League record during the three years they suited.
Yet with many relatives and friends sitting behind the Yale bench, the two look-alikes failed to make an impact on the floor.
Nick Holmes, who started, was 0-for-5 from the field and went scoreless, although he was credited with three assists and two blocked shots.
"It was exciting having family and friends here," Nick said. "We just turned the ball over too much. Then they got out and ran and took good shots."
Caleb Holmes came off the bench to score six points, but he was docked with a team-high five turnovers.
"It was frustrating," Caleb said. "We knew we could play with them if we could handle their pressure, and we couldn't there late in the first half. Then we just didn't show up in the second half."
Twelve of the 14 KU players who participated scored, yet Yale's coach did not believe the Jayhawks' depth wore his team down. Ten of Jones' players logged double-digit minutes, and none played longer than 28 minutes.
"We used a lot of players, too," Jones said, "so I'm not certain that was a factor."
Until Wednesday, the Bulldogs hadn't played in front of more than 8,000 fans this season. The usual sold-out Allen Fieldhouse doubled that number, but Jones declined to play the intimidation card.
"We played UConn when they were No. 1," he said. "We played Wake Forest when they were No. 1, and we played at Oklahoma State. We had a good start tonight. We just didn't finish."
Yale, picked to finish fifth in the Ivy League, will play Monday at American U.
Copyright 2018 The Lawrence Journal-World. All rights reserved. This material may not be published, broadcast, rewritten or redistributed. We strive to uphold our values for every story published.