Jeff Hawkins hobbled down an Allen Fieldhouse hallway, looking like a guy in dire need of a whirlpool.
"I've got an old body, a real old body. It feels like I've been here seven, eight years," Hawkins, Kansas University's fifth-year senior guard, groaned after shrugging off nagging back pain to tie his career high of 19 points in Wednesday night's 87-46 victory over Yale.
The bad back that has flared up during Hawkins' five years at KU kept him from practicing Tuesday.
That was one of the main reasons coach Bill Self decided to have his regular starting point guard come off the bench for the first time this season.
Returning to a reserve role might be permanent, since Hawkins drained seven of 12 shots and had four assists, no turnovers and two steals in 27 minutes. Replacement Mario Chalmers, who made his first start, hit five of eight shots, good for 13 points - two off his career high - in 21 minutes.
Photo Gallery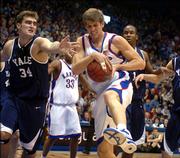 KU vs. Yale
"I think it (switch) was good. Coming off the bench, I was a little more focused," Hawkins said. "It's what I was used to doing last year, sitting on the bench and analyzing the player I'll be guarding when I get in there. I sit there and try to figure out, 'Do they like to dribble more to their right or their left,' how they come off ball screens, then hopefully when I come in I can get my hand on the ball and get a steal."
Chalmers - who, like Hawkins, learned of the players' swapped roles at KU's morning shootaround - made the coach's move look good, scoring seven of KU's 15 points as the Jayhawks grabbed a 15-7 lead.
"I was just excited, ready to go out there to show myself, prove myself : that I should continue to be starting," said Chalmers.
Self said Chalmers likely would the call again Saturday against Kentucky.
Super-sub Hawkins, meanwhile, along with Russell Robinson (eight assists, two turnovers, five steals), came on strong late in the half. They keyed a half-closing 14-0 run that busted open a close game and gave KU a 36-25 lead at the break.
Hawkins scored seven points in a 44-second stretch of that surge, while Robinson had an amazing three steals and four assists.
It's obvious Hawkins handled his first reserve assignment of the season well.
"At shootaround, coach said he'd go with Mario. I just said, 'OK.' If it's best for the team, I'm all right with it," Hawkins said. "I'm competitive in all ways, but if it's best for me to be on the bench at that time, then it's best for me to be on the bench at that time. Coach is still trying to figure out who the best starters are, whose coming off the bench, the best rotation."
Self went with C.J. Giles at starting center next to Christian Moody for the first time in three games, this time sitting Sasha Kaun
"You could flip a coin," Self said of his big men, indicating he liked Chalmers starting next to Robinson. "I thought Mario played well. He gave us offense early. He started, and it may have helped. Jeff came off the bench and gave us energy and offense. 'Hawk' may be more comfortable coming off the bench.
"He has a bad back, and Mario's been playing a lot better, so we will probably stick with this and see if it will continue to work. Tonight it was pretty good."
KU continued its sizz to start the second half.
Hawkins fed Moody (seven points, 16 minutes) for a pair of buckets to open the half. The 14-0 run turned into a 23-2 roll, and KU led, 45-25, three minutes into the second half.
An unsung hero was Robinson, who scored just two points but might have been the most important player on the floor, creating havoc with his career-high assists and career-tying steal mark.
"He didn't take shots tonight, but this is the most fun Russell has had," Self said.
"It was great. Once we got it going, we kept it going," Robinson said. "We've let teams linger around. Today we put the foot on the throat and kept battling. We need to take it into Saturday's game.
"We had to have a great game. If not, no one would be thinking we could beat Kentucky. Now with the win we had tonight, there's no doubt we'll be able to go in there and fight with a lot of confidence."
Tipoff for the KU-Kentucky game is 11 a.m. Saturday at Allen Fieldhouse.
Copyright 2018 The Lawrence Journal-World. All rights reserved. This material may not be published, broadcast, rewritten or redistributed. We strive to uphold our values for every story published.