Baldwin — Customers were warned as soon as they reached the door at Baldwin City Market.
"No bottled water," a handwritten sign taped to the glass read.
"We sold out yesterday afternoon," store owner Jeff Simpson said Wednesday morning as he pointed to several empty shelves that normally held dozens of variously sized bottles of water. "I didn't even get any."
Bottled water was a prime commodity as Baldwin continued under a state boil advisory while the city's water system was returning to normal. The town of about 3,600 people has two 750,000 gallon water tanks that almost went dry earlier in the week because of a valve problem in the water line that brings treated water to Baldwin from Lawrence.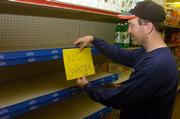 City Administrator Jeff Dingman said he hoped the boil advisory would be lifted by the Kansas Department of Health and Environment sometime today. Wednesday afternoon city workers were taking water samples to be returned to KDHE for analysis. If no contaminants are found, the boil advisory was expected to be lifted, Dingman said.
By Wednesday morning, however, water pressure throughout Baldwin and Wellsville had returned to normal. Wellsville officials said their city had not been under a boil advisory.
The problem started Sunday when a valve stuck on the water line south of Lawrence. The valve was on the Baldwin part of the line and city workers opened the valve; or so they thought. A bushing inside the valve broke and the valve remained closed.
On Tuesday morning, Baldwin workers realized the city's two water tanks were dangerously low on water. Alarms that were supposed to sound when the water levels reached 10 feet failed.
The valve south of Lawrence was repaired but water pressure was low Tuesday in much of the town, as it was in Wellsville, which also receives water from the same system.
The problems caused Baker University to call off its first day of classes early. Classes resumed Wednesday as water pressure in the town returned to normal, Baker spokesman Steve Rottinghaus said. But signs were placed on water fountains and other water sources warning people not to drink. Workers at the student union cafeteria used bottled water to prepare meals, he said.
Most restaurants in Baldwin were closed Wednesday. At the Santa Fe Market, cashier Angie Burke hauled water in from her rural home to help operations at the convenience store.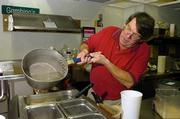 "There's nothing we can do about it," Burke's co-worker, cashier Rikki Johnson, said, noting that their store, too, had seen a run on bottled water and soda pop. "At least we have fresh coffee for the customers."
The boil advisory wasn't causing any major problems at the Baldwin Care Center, a nursing home where there are 40 residents, administrator David Mercier said. Mercier had driven his pick-up truck to a supplier in Olathe where he obtained 43 cases of bottled water for the center.
"We're using it for drinking and special needs," he said. "We're doing all right."
The water line has had several leaks during the past several years, said Bill Winegar, Baldwin's public works director. It is about 30 years old and some of the line travels through the Baker Wetlands, which may cause deterioration at a more rapid pace, he said. Efforts are under way to try to replace the line.
"We are looking at getting something started on that yet this year," Winegar said. "It's in our capital improvements plan to upgrade it. We are currently working with the city of Lawrence to try to get something resolved."
Copyright 2018 The Lawrence Journal-World. All rights reserved. This material may not be published, broadcast, rewritten or redistributed. We strive to uphold our values for every story published.