Love 'em or hate 'em, this much can be said with certainty about traffic-calming devices: Lawrence has a growing list of ones scheduled to be built.
The list - already at more than $600,000 worth of projects awaiting funding - may get longer tonight as city commissioners receive a report recommending items such as traffic circles and speed humps for 13th Street between Connecticut Street and Haskell Avenue.
"It is a wide open road," said D. White, who has been living along the street for 18 years. "There's nothing to slow people down, and people are taking advantage of it. I think we need to do what we can to protect 13th Street as a residential street."
A study compiled for traffic safety commissioners - who recommended the project at their meeting earlier this month - found that average speeds on some stretches of the 30-mph street were 49 mph. Other stretches of the street had average speeds closer to 35 mph.
But if city commissioners concur with the recommendation from traffic safety commissioners, that doesn't mean the new traffic-calming devices will get built anytime soon.
Just ask Chris Davis. He and his neighbors along Carmel Drive have been on the list of approved projects since summer 2004. But commissioners have yet to find the $72,000 needed to build six speed humps.
Photo Gallery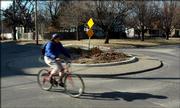 Traffic Calming
"It is frustrating," Davis said. "The decision was made that they were needed for safety reasons. My concern is there are so many little kids on this street. It seems like we're putting a price tag on an accident that is going to happen."
In total, there are approved projects for nine other areas of town. Some have been on the approved list since 2003. City Commissioner Mike Amyx isn't sure that he can tell residents that the projects will get built anytime soon. He said it is tough for him to justify spending money on new traffic-calming devices when many of the city's existing streets need repair.
"It seems to me that we have to get the streets themselves fixed first," Amyx said. "We have to talk about what order we do things in.
"And there's still a lot of talk out in the community about whether these devices are doing any good."
David Woosley, the city's traffic engineer, said he thought a good case could be made that the devices are working as planned. He said the most recent and biggest project included a series of traffic circles and speed humps on Harvard Road in west Lawrence. He said they've been well received by neighbors.
"All the comments we have received from people who live along the road have been positive," Woosley said. "Now, we get some negative comments from people who just drive through, but I suspect that's because they don't want to slow down. But that's the point."
Specific designs for the 13th Street project haven't been created. Woosley said he'd work with neighbors to develop plans if the project receives funding.
Commissioners likely won't tackle the issue of how to fund the list of projects at tonight's meeting. The item is part of their consent agenda, which normally doesn't draw much discussion. Instead they are being asked to consider the issue during their 2007 budget considerations this summer.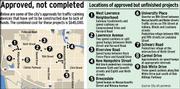 But there is some support on the commission to get aggressive about funding the projects. Mayor Boog Highberger said he would like the city to adopt a three-year funding plan, beginning in 2007, to tackle all the projects.
"We need to make sure our streets are safe for kids and bicyclists, not to mention other people driving cars," Highberger said.
Copyright 2017 The Lawrence Journal-World. All rights reserved. This material may not be published, broadcast, rewritten or redistributed. We strive to uphold our values for every story published.