Rejoice, Lawrence motorists: Orange cone season is almost over.
For many drivers, less orange should help them see less red.
"It has been a real hassle," said Sue Beeson, a Lawrence resident."It just adds so much time onto your day."
Chuck Soules, the city's director of public works, said his department oversaw approximately $2.7 million worth of work to existing roadways in the city this construction season.
Soules has heard many complaints this year. And, he said, motorists did have a point. The summertime construction season in Lawrence can be particularly intense because city officials believe they should do as much work" as possible while most Kansas University students are away for the summer.
"We realize it makes it really inconvenient for everyone who lives here because we tear up every street we need to during that time," Soules said.
Hits and misses
Motorists this year grappled with a closed Clinton Parkway, a torn-up Harvard Road, two major projects on Sixth Street - one of which is still under way - and a downtown waterline project that turned parts of Massachusetts Street into a hard-hat area. A review by the Journal-World of how well the city kept its construction projects on schedule revealed a mixed bag.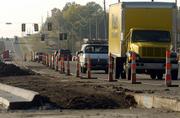 According to an analysis of City Hall weekly infrastructure reports, several projects took longer than expected. A stormwater improvement project topped the list, continuing 100 days beyond schedule. The project tore up roads in the area around 13th and Oregon Streets.
A roundabout at Clinton Parkway and Lake Point Drive - a project that closed Clinton Parkway west of Wakarusa Drive - also wentover schedule by 30 days. And city officials had told the public that lane reductions near Sixth Street and Wakarusa Drive were scheduled to end by Oct. 1, but motorists still are dealing with closed lanes of traffic there.
Soules said rain - particularly about 6 inches more than normal in August and three inches more than average in June - strongly contributed to the delays.
Soules said the stormwater project was particularly frustrating.
"The nature of that work is if it rains a drop it ends up in the ditch we're working in," he said. "The project really seemed to drag on, but we think a lot of that was attributed to the weather. We think the contractor really was working diligently."
Projects that were able to dodge the wet weatherfared reasonably well, Soules said. The downtown waterline project, traffic-calming improvements on Harvard Road and a repaving of Sixth Street from Missouri to Tennessee streets all finished on time or slightly ahead of schedule.
"I think we had a pretty good year," Soules said.
Public perception
Professional road builders know the public may not agree that the city has had a "pretty good year" for construction. Steve Glass - president of LRM Industries, one of the larger road builders in the city - said the public didn't understand how rain adversely affected a project.
"When you are digging a trench or grading a road, you obviously lose the day that it rains, but you often lose another day or two as well," Glass said.
That's because governments apply strict standards on the dryness of the soil before work can continue. If pavement is applied to slightly wet soil, the chances of a road buckling or cracking increase.
"I can't tell you how many comments I get from people who say, 'It wasn't raining today, so why weren't you out there working?'" Glass said. "There really is a good reason."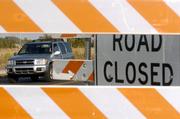 Glass said he promised that construction companies had no incentive to take longer than necessary to finish a project. After all, Glass' employees get paid by the hour, but Glass' company doesn't. When doing work for a government, the company bids a set price and must live with it regardless of however long it takesto complete the project.
"I know some people think there's some financial advantage to the contractor if they drag the job out, but if you think about it, that makes no sense," Glass said.
Penalty system
The city also tries to ensure that contractors don't dally. Soules said every city contract included provisions that allow contractors to be fined for every day they run late. He said the standard provision is one-tenth of 1 percent of the project's total cost for each day it is late.
Sometimes the city also sets specific amounts. For example, the city put a clause in the downtown waterline contract that fined contractors $1,000 per day each day it was late.
But there is a catch. The contracts don't count rain days against a contractor's total. For example, if a company was given 30 working days to complete a project and it was too wet to work during five of those days, the company would receive an additional five days to complete the work. City inspectors are on site each day to determine whetherit is too wet to work.
Soules said the city usually had only one project every couple of years that received a fine. He said his department also would recommend that bids not be accepted from companies that had a history of slow work, although he said such recommendations were rare.
Contracts also generally do not consider Saturdays and Sundays work days unless specified. The city has begun to mandate some Saturday work days. For the downtown waterline contract, crews were required to work on Saturdays in an effort to reduce the amount of time merchants were affected by the work.
Soules said the results were good, but he said the city likely couldn't afford to require the provision in every contract. Glass said requiring Saturday work could easily add 5 percent to 15 percent onto a project's cost.
More planning
City Commissioner Mike Amyx isn't quite ready to start paying more for street projects, but he said he thought city officials could do a better job of scheduling projects.
He said he heard many complaints, probably justified, that the city had started too many projects in a single area of town at once. For example, while work was under way on Sixth Street, a state project, the city had Harvard Road torn up as well. Harvard could have served as an alternate route for some Sixth Street traffic.
Amyx said he recognized the situation's difficulties because he believed as much work as possible should take place while students had left. But he said attention needed to be paid to the residents who remain.
"We don't want to put people in a situation where they can't move," Amyx said.
Copyright 2018 The Lawrence Journal-World. All rights reserved. This material may not be published, broadcast, rewritten or redistributed. We strive to uphold our values for every story published.