After 11 seasons as an assistant coach at the high school level, Chuck Law allowed himself to dream a little bit, looking two years into the future at the possibility of taking over the Free State High boys basketball program.
Reality interrupted that scenario in a big way last fall when longtime Firebirds boss Jack Schreiner resigned, and the administration handed Law the reins on an interim basis.
So much for easing into the new gig.
Instead, Law has endured a baptism by fire that will continue Thursday when sixth-seeded Free State travels to No. 3 Topeka for a Class 6A sub-state opener. The Firebirds landed in that spot after an 8-12 regular season that saw Law's short preparation time and a slew of injuries give way to a pair of high-profile victories over the intracity rival and a run of three victories in four games to close on a high note.
Whether it's enough to keep Law in the catbird's seat and get an official head start on his dream is still to be decided.
With the exception of the postseason, you now have been through one season as a head coach. What has it been like to be in that position for the first time?
More difficult than I ever possibly could have imagined. Certainly more time-consuming. I knew it was going to be a time-consuming job anyway, then you throw in all bumps in the road and all the ups and downs that we have had this year, and it's really made the first go-around quite a significant challenge.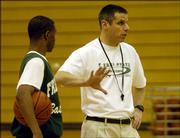 What's the most difficult part of being a head coach compared to being an assistant coach?
The easiest part of the assistant-coach world is you just show up at 3:30, and then you practice until 5:30 or whatever it is, and you can pretty much leave it at that particular point. Head coach : all the pre-practice preparation that goes in, and then kind of analyzing how practice went and where you are in the grand scheme of things of what you hope to achieve with your team : there's just a heck of a lot more responsibility and big picture that goes into being the head coach.
This job wasn't something you had much time to prepare for because of the circumstances. Did that make it that much more difficult that you didn't have a long offseason to formulate what you would do as a head coach?
It certainly made it a little more difficult. I had given up coaching soccer thinking that perhaps if things were to fall right, that this job could be mine two years from now. Coach Schreiner always was planning to coach (son) Kyle through his last two years, and then I was kind of hoping that I was positioned to inherit that job at that particular point. ...
Circumstances, unfortunate as they were, it kind of fell into my lap two weeks before the season started. So all of the things that a coach would do in terms of offseason and preseason preparation, I didn't have an opportunity to do that.
Have you sensed that the players react differently to you now that you're the head man as compared to when you were an assistant?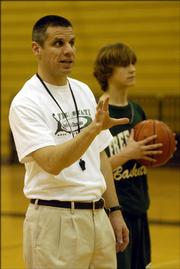 No question. Being an assistant coach is a great gig. You get to pal around with them a little bit more, you can tear down the wall that needs to exist between a head coach and his players a little bit more, you get to be good cop typically when head coach has to be bad cop, so the relationship you build with players is on a different level. ... I do sense a little bit of a different take from the guys, as I've had to wear considerably a greater number of hats throughout the course of the year, but I still feel like I've got a pretty good rapport with these kids.
How do you feel about the way this season has shaped up?
I feel really good about what we've accomplished, and 'll give credit to where credit is due. The kids have been great. For everything that we've faced and all the adversity we've faced, from day one really all the way up until about the last four or five games where things have been pretty stable, they have stayed on board with us, the coaching staff and with me, probably more so than any other team I would think facing a similar set of circumstances.
Do you feel that you've done the type of job this year that will lead to you keeping the job beyond an interim basis?
You never know. Obviously there are no guarantees in life. I sure feel good about how we've played, especially in light of all the things that have happened to us.
And I'm especially proud of how our kids have conducted themselves. ... Now, the powers-that-be are ultimately going to have to make that decision about whether this becomes my job full-time or whether they decide to go a different way.
Copyright 2018 The Lawrence Journal-World. All rights reserved. This material may not be published, broadcast, rewritten or redistributed. We strive to uphold our values for every story published.