Good thing Jenna Brantley is right-handed.
Brantley, playing despite a hairline fracture in her left pinkie, drilled 18 points to fuel Free State to a 50-31 girls basketball victory over Lawrence High on Friday night in the FSHS gym.
"She has a bunged-up finger," Free State coach Bryan Duncan said, "but you wouldn't have known it tonight."
Brantley, a 5-foot-11 junior, drilled four three-point goals - three in the second quarter when the Firebirds took command and avenged a 49-37 pre-Christmas loss to the Lions in the LHS gym.
"Playing against LHS," Brantley said, "I wasn't even thinking about the pain. When I used my left hand, I just dribbled with three fingers."
Brantley, who injured the digit in Tuesday's victory over Olathe Northwest, played with her left ring finger taped to the pinkie.
It was Senior Night, so Duncan started the three players who were playing for the last time in the FSHS gym - Banaka Okwuone, Sarah Heider and Tricia Dunham. That kept Brantley on the bench until midway through the first quarter.
"Coming off the bench didn't faze me," Brantley said, "because it gave the seniors a chance to start."
Photo Gallery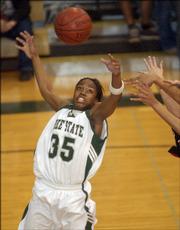 Lady Firebirds vs. Lions
Guard Lauren Kimball, another junior, contributed 17 points, including 7-of-8 at the free-throw line, as the Firebirds won their sixth straight. They will go into next week's Class 6A Topeka High sub-state with a 13-7 record and the No. 3 seed.
Their opponent? Lawrence High.
The Lions are the No. 6 seed and will return to the FSHS gym for a first-round sub-state game at 7 p.m. Wednesday.
"I think it will be a chance for more revenge," said Kimball, who had scored only nine points and fouled out during the first meeting.
It's doubtful the Lions will have guard Sydney Wilson for the postseason rematch. Wilson, the team's second-leading scorer, watched Friday's game in street clothes. The 5-9 senior guard went to a doctor Thursday afternoon and learned she had a pinched nerve in her back.
"I've never sat out a game like that," Wilson said. "It was tough. I hope I can play next week. I'd love to have another chance."
Without Wilson in the backcourt, the Lions were susceptible to the Firebirds' press. Lawrence High was charged with 21 turnovers.
"All year long she has thrown the ball inbounds and has been the reverse player against the press," LHS coach Kristin Mallory said of Wilson. "No one else has done it."
Mallory used sophomore Danielle Bird as a fill-in, but the 5-9 Bird was like a fish out of water because she had only one practice to adjust to the switch.
With Wilson unlikely to play in Wednesday's rubber game of the intracity rivalry, Mallory realizes the Lions could struggle, but she expects her team to compete.
"It's an opportunity to right a wrong," the LHS coach said.
Guard Drew Huff led the Lions with 12 points. Bird had 11. With Wilson out, the remainder of the lineup contributed only eight points. Wilson had nailed four three-point goals and scored 20 in the December meeting.
"Some of it was us not feeling comfortable," Mallory said, "because Sydney has played in almost every minute of every game for us."
Free State's 8-3 Sunflower League record is the best in school history. The Firebirds' 13 regular-season victories are the second-best in the school's nine years of existence.
Lawrence High wound up 6-5 in the league and is 9-11 overall.
2005-06 Journal-World Cup
2005-06 Journal-World Cup
Standings
LHS: 10
Free State: 17
LHS varsity wins: 10
Free State varsity wins: 17
Note: The girls track and field teams recorded a tie during the Sunflower League meet.
Copyright 2018 The Lawrence Journal-World. All rights reserved. This material may not be published, broadcast, rewritten or redistributed. We strive to uphold our values for every story published.