Kayla Nolte must have been Lawrence High's happiest high school senior Tuesday night.
With 13 seconds left in the Lions' 55-48 girls basketball victory over Shawnee Mission North, LHS coach Kristin Mallory sent Nolte onto the floor.
"I was surprised," said Nolte, who hadn't played since tearing an ACL the first week of practice. "I wanted to shoot, and I was mad because their girls guarded me."
But at least Nolte, a 5-foot-10 forward with a brace on her injured knee, played on Senior Night.
"I guess you can say," Nolte said with a smile, "that I enjoyed my moment of fame."
Meanwhile, the Lions enjoyed a win after dropping three of their last four outings. Sophomore Danielle Bird scored 14, and senior Drew Huff added 12 as the Lions boosted their record to 9-10 overall and 6-4 in the Sunflower League.
"We've been struggling," Huff said, "so it's good to get a win before we play Free State."
The Lions will travel across town Friday night for their regular-season finale.
Photo Gallery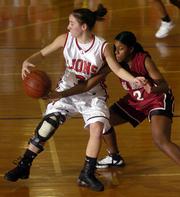 Lawrence High vs. Shawnee Mission North
"They've been doing really well," senior forward Lindsey Lawrence said of the Firebirds. "They've beaten some teams that have beaten us, so it will be really hard, but anything can happen."
Lawrence celebrated Senior Night by matching her career high with seven points. Sarah Johnson, another senior, contributed nine points.
"Lindsey and Sarah played really well," Mallory said. "They kind of kept us in it early."
The Lions fell behind 6-0, then spurted to a 10-point lead in the second quarter. However, the Indians, who fell to 4-16 overall and 2-10 in the league, twice cut the deficit to two in the third quarter before the Lions pulled away in the last period.
"More than anything on Senior Night, we needed a win," Mallory said. "We hadn't been playing well, and you want some momentum at this time of year."
SM North boys 62, Lawrence High 50
Momentum is something the LHS boys had when they opened the season with five straight victories, but Tuesday night's loss was their fourth in the last five games.
Moreover, this Senior Night defeat was inflicted by one of the Sunflower League's worst teams. SM North improved its record to 5-13 overall and 3-8 in the league; the Lions fell to 10-9 and 4-6.
"We're just missing that little something right now," Lions' coach Chris Davis said. "It's like the kick-starter on a motorcycle. It's got to start, or we're going to struggle."
Lawrence trailed most of the way, but forged a 50-50 tie on Nathan Padia's twisting layup with 5:52 remaining.
"Late in games, we've usually dominated," Davis said, "but we couldn't do it this time."
After Padia's basket, the Lions failed to score again, missing their last five shots and turning the ball over twice.
LHS forced the Indians into 22 turnovers, but allowed too many easy shots under the basket - the main reason SM North shot 59 percent (26-of-44). The Lions were 19-of-50 from the field, including 9-of-28 from three-point range.
"Usually, we convert after turnovers," Davis said, "but tonight we didn't, and that was a lot of our problem."
SM North was brutal from the foul line, making just 7-of-18, but the Lions couldn't capitalize, making only three of 10 charities themselves.
Copyright 2018 The Lawrence Journal-World. All rights reserved. This material may not be published, broadcast, rewritten or redistributed. We strive to uphold our values for every story published.