They worked within feet of one another never knowing they were sisters - until one recent day.
"We're just working away," Heather Epperly said. "And I overheard Sara and Anne say something about (Alpha Delta Pi). I said: 'You guys are both ADPi's? So am I.'"
Epperly, Sara Thimmesch, and Anne Garlinghouse went to different schools at different times, but all ended up in the same Lawrence office, Coldwell Banker McGrew Real Estate.
"We're really spread out, but our paths still cross," Epperly said.
Now that they've found each other, the sorority sisters are searching for others in their vast greek family. They're working to form an ADPi alumnae group in Lawrence.
Because, as for many greeks, it's once a sister, always a sister.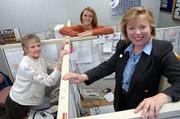 Garlinghouse was in Kansas University's chapter in the mid-1960s. She remembers chapter meetings, parties, and that tried-and-true motto: We live for each other and for Alpha Delta Pi.
Thimmesch pledged for the sorority at the University of Missouri-Columbia in the 1980s. When she thinks back on those days, she sees big hair, disco dancing, and the ADPi song that goes: "Like it, hey, love it ... will until the day I die."
Epperly joined the sorority in the mid-1990s at MU, where there was the Watermelon Festival and one of her sisters was Watermelon Queen. Epperly's pledge mom would set her up on dates at parties. And she has fond memories of working on homecoming floats.
Such memories will be up for discussion away from the office. The group will have its first meeting Saturday. For more information, contact Garlinghouse at annegarlinghouse@cbmcgrew.com.
Copyright 2018 The Lawrence Journal-World. All rights reserved. This material may not be published, broadcast, rewritten or redistributed. We strive to uphold our values for every story published.