Fort Leavenworth was established on the banks of the Missouri River in 1827, the last major point of contact for settlers moving west. It is the oldest continually active Army post west of the Mississippi River.
The U.S. Disciplinary Barracks was formed in 1875; in 1881, Gen. William Tecumseh Sherman established the forerunner of today's Command and General Staff College, which trains all intermediate-level officers in the Army.
Alumni of the college include Gens. Dwight Eisenhower, Douglas MacArthur, George S. Patton, Norman Schwarzkopf and Colin Powell.
"A lot of the history we teach was made by the students we taught," said J.P. LaMoe, chief of staff at the college.
Sites at the fort include the Fort Leavenworth National Cemetery, established in 1862; the Buffalo Soldier Monument; and the Frontier Army Museum, which this spring will become permanent home to a Lewis and Clark exhibit that has traveled the country.
Photo Gallery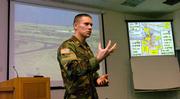 Fort Leavenworth
Since post-9-11 security measures were imposed at the base, annual attendance at the museum has fallen from 55,000 to 22,000. But officials say visitors are welcome, provided they have photo identification and submit their vehicle to inspection.
The museum is open Monday through Saturday.
'Intellectual hub'
The Combined Arms Center at Fort Leavenworth is the "intellectual hub" of the Army - including several organizations devoted to developing war-fighting doctrine, training and collecting the lessons learned in the battlefield.
A sampling of the work done at Fort Leavenworth:
Doctrine
¢ Combined Arms Doctrine Directorate: Develops, writes and updates Army field manuals on the different aspects of fighting war.
Training
¢ Command and General Staff College: Educates and trains intermediate level officers in the Army, other military branches, foreign militaries and civilian agencies to be field grade commanders and staff officers.
¢ CAC-T: Develops "collective training" programs to help Army units learn to work in concert.
¢ National Simulation Center: Develops simulations used by command staffs to practice war-fighting scenarios.
Lessons learned
¢ Center for Army Lessons Learned: Sends officers out with units in the field to draw lessons from successes and failures in war efforts.
¢ Combat Studies Institute: Researches contemporary and historic wars to find enduring lessons about the battlefield decision-making process.
¢ Military Review: Prints journal articles on issues facing the Army.
Copyright 2018 The Lawrence Journal-World. All rights reserved. This material may not be published, broadcast, rewritten or redistributed. We strive to uphold our values for every story published.