Kansas University's provost doesn't make the trains run on time - but that's only because there isn't a railroad on campus.
Instead, the provost oversees decisions on a wide array of university matters, including faculty hiring, the temperature of campus buildings and how much students pay to park on campus.
That's the all-encompassing job that Richard Lariviere, KU's new provost-designee, was welcomed to during a reception Wednesday.
"I'm still a rookie," said Lariviere, 56, who will take over the position in June. "I'm going to be a rookie for a while."
He'll get help from David Shulenburger, the current provost. Shulenburger, 60, is leaving after 13 years to be vice president of academic affairs at the National Association of State University and Land-Grant Colleges.
"The provost's job is really challenging," Shulenburger said Wednesday during a break in a Kansas Board of Regents meeting in Topeka. "You've got 30 high-level people who report directly to the provost."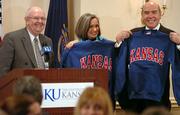 Lariviere, who will make $278,000 at KU, called the task of filling Shulenburger's seat "daunting."
"It's my hope that I can learn from him as much as I can," Lariviere said.
The two have been in regular e-mail contact since Lariviere's selection, and plan two full days together to review the job's demands.
"Whatever he wants and needs I'll find a way to help him with," Shulenburger said.
Lariviere, currently the dean of liberal arts at the University of Texas at Austin, said he planned several trips to Lawrence before assuming the job. He said he has asked everyone in the provost's office to give him a one-page report on issues staff are facing.
"I'm driven by data," Lariviere said. "I'm not controlled by data, but I really like to know what the numbers look like, what the metrics are and how we're hitting them."
Major issues, Shulenburger said, will include finding ways to boost faculty salaries, finding more money for graduate student fellowships, and dealing with the maintenance of aging buildings.
Lariviere's wife, Janis, will work at the KU Center for Science Education.
Lariviere's academic interests are Sanskrit and Hindu law. He travels frequently to India, where he consults and serves on the board of eMR Technology Ventures, a business outsourcing company.
He also works as a consultant to Deluxe Corp., General Instrument Corp., MetLife, Cisco Systems, Sabre Holdings, HCL Corp., Saville Systems Corp. and other companies.
Lariviere will leave Texas after a 24-year stint in the state. He said he looked forward to his move to Lawrence.
"I'm ... savvy enough to know that to have a real impact on the issues confronting higher education, you have to work with big, powerful flagship institutions that have lots of research and lots of influence in the region and the nation," he said. "Kansas fits that model."
Copyright 2018 The Lawrence Journal-World. All rights reserved. This material may not be published, broadcast, rewritten or redistributed. We strive to uphold our values for every story published.