Olathe — If this one had turned out like the previous three Kristian Pope had experienced as a Lawrence High Lion, he'd be allowed to consider himself snake-bitten.
Yep, he notched the fourth time he'd watched a buzzer-beating, half-court shot go in for his foe. For the first time, it didn't mean he'd walk away on the losing end, as LHS used an unexpected overtime to knock off Olathe North, 84-82.
"I think it was really that we've been put in that position so many times this year and haven't been able to get over that hump," Pope said.
The Lions led, 74-72, with 3.1 seconds left as Chance Riley was fouled out of desperation and sent to the line for two shots. He calmly sank the first one, but when the back end of the pair fell off the front of the rim, Olathe North's Spenser Essman got some luck on his side. He took two dribbles and heaved a shot just feet beyond half-court and hit nothing but nylon.
"Our heads were down, and I said this is why you play," LHS coach Chris Davis said. "This is why we're here. You shouldn't have your heads down. Stand up and play. I think we've had enough games now where we've fallen behind and found a way to come back and either win or be within a basket or two at the end, and I think we're getting battle-tested pretty well."
Photo Gallery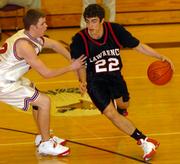 Lawrence High vs. Olathe North 02-14-06
Lawrence's problem most of the night was that it had finally met an athletic, speedy opponent who could match its fast-paced, chuck-'em-if-you-got-'em style. The Eagles scored by the bunches in a 32-point second quarter, led by junior guard DeMarkis Dobbins, who tallied 20 of his game-high 22 points before the half. In the locker room, the Lions trailed 49-38, and in the frenetic manner of the game had lost all focus.
"We lost our composure in the second quarter," Davis said. "I think the fact that we've been in a bunch of these has really helped us to keep our composure."
The Lions stayed afloat, and made their move with six minutes left in the game. Tyler Knight sank back-to-back three-pointers to pull LHS within one at 66-65. Three minutes later, Nathan Padia connected on a three of his own to put the Lions ahead, 71-70.
Lawrence's most important three, though, happened to be the 21st and final trey of the game between the two schools. Trailing 82-79 with a minute left in overtime, Daniel Green casually stroked one from the corner with a defender in his face.
Padia put the Lions up for good, scoring the final two of his 19 points on a layup with 5.3 seconds left. North got one final look at a three from the corner, but the ball touched nothing but air.
It was the first meeting between the two teams since last season's Class 6A sub-state final, in which LHS knocked out an upset-minded Olathe North team to advance to Emporia. Oddly enough, the two teams will more than likely face each other in about two weeks in the sub-state opener, as they currently occupy the No. 4 and 5 slots. But the Lions more than likely made sure the rematch will take place about 30 miles west down K-10 .
"Tonight we kind of knew it was all or nothing," said Pope, who scored 16 points for LHS. "We knew we wanted to play at home for sub-states."
Copyright 2018 The Lawrence Journal-World. All rights reserved. This material may not be published, broadcast, rewritten or redistributed. We strive to uphold our values for every story published.