Brian Azcona wore a rubber pig mask Tuesday as he posed as a Kansas University bureaucrat standing in the way of graduate teaching assistants' interests.
"We've had a tough time with negotiations so far," the co-president of the Graduate Teaching Assistants Coalition said.
The students gathered outside KU's Strong Hall for a theatrical rally to garner support for their goal of brokering a deal with KU for better salaries, benefits and conditions.
University spokeswoman Lynn Bretz said salaries for graduate teaching assistants have increased more than any other employee group in recent years and the university is committed to reaching an agreement with the students in this latest round of negotiations.
"The university is very interested in advancing the negotiations," Bretz said.
Both sides return to the bargaining table today.
GTAC represents KU's roughly 900 graduate teaching assistants. The group for months has been working on its third memorandum of agreement. As the coalition continues negotiating, the students work under an agreement that formally expired in the fall.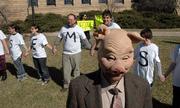 GTA salaries have increased in recent years. In fiscal 2003, the minimum salary for a nine-month appointment was $8,000, according to KU. Today, that figure is $10,000. And the average salary has climbed from $11,349 in 2003 to $12,941 for fiscal 2005.
The students have received an average salary increase of 30 percent since 2003 - far more than any other KU employee group, Bretz said.
That figure is the increase in funds to the entire pool of GTAs. Some individuals may have received higher or lower percentage increases.
Salaries and conditions have improved, GTAC members acknowledged. But they said they still need a minimum pay raise to make ends meet.
They're also asking for improvements to benefits and a lifting of the 10-semester limit on the amount of time assistants can work.
GTAC members said the university is stalling negotiations by only scheduling a few bargaining sessions for this semester. But Bretz said it's the students who are holding negotiations back by declining to meet during the summer and at other times.
"Come support your GTAs," GTAC Co-President Kyle Waugh shouted through a megaphone Tuesday to students passing by on Jayhawk Boulevard.
A group of GTAs lined up and linked hands. They wore shirts spelling out "10 Semester Limit." Behind them, a student carried a sign portraying the students' contract.
The group called for passersby to run toward the line and attempt to symbolically break the 10-semester limit.
Azcona, wearing a brown coat and tie and carrying a briefcase, symbolized the bureaucrat protecting the 10-semester limit.
Katy Andrus, a sophomore, was among those who volunteered to try to break the line. The graduate students aren't being treated fairly, she said.
"What can you do besides making a spectacle?" she said.
Salary comparisons
Here are GTA salaries compared among 14 public university members of the Association of American Universities. The 2005 salaries are for GTAs with nine-month, 20-hour per week appointments.
University of Nebraska: $14,148 University of Michigan: $13,893 Michigan State University: $13,004 University of Colorado: $12,763 Purdue University: $12,576 University of Illinois: $12,571 Ohio State University: $12,396 Kansas University: $12,361 University of Iowa: $11,704 University of Wisconsin: $11,549 Indiana University: $11,436 University of Minnesota: $11,014 Iowa State University: $10,770 University of Missouri: $10,462
Copyright 2018 The Lawrence Journal-World. All rights reserved. This material may not be published, broadcast, rewritten or redistributed. We strive to uphold our values for every story published.