About a dozen graduate teaching assistants rallied Friday afternoon at Kansas University's Wescoe Beach, saying they want a "living wage."
The noon display came an hour before representatives from the Graduate Teaching Assistants Coalition went into a closed-door bargaining session with KU officials.
A KU spokesman said the coalition hadn't made a firm wage proposal. But Brian Azcona, GTAC co-president, said his group was still waiting on budget data from the university.
"Negotiating with the university is like fishing in the rain in murky waters," said Azcona, a graduate teaching assistant in sociology.
"All I can say is the university is at the table, ready, willing and able to negotiate," said Lynn Bretz, a KU spokeswoman. "If GTACs are looking for a living wage, they need to propose it."
Azcona said negotiating ground rules prohibited him from discussing the exact wage sought by GTAC - but he said the union's proposal was based on a KU estimate that it costs $13,674 to be a student in Lawrence.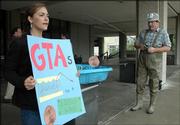 Bretz said that figure probably only applied to undergraduate students and wouldn't take into account tuition waivers received by teaching assistants.
The current GTAC contract, ratified in October 2002 after 22 months of negotiations, raised the minimum teaching assistant contract to $10,000 from $5,500. It also pumped in an additional $3 million per year into teaching salaries in the form of merit raises, a result of tuition increase money.
Azcona said GTAC had "about 200" dues-paying members. KU has approximately 900 teaching assistants overall.
Copyright 2018 The Lawrence Journal-World. All rights reserved. This material may not be published, broadcast, rewritten or redistributed. We strive to uphold our values for every story published.