A Kansas University honors student died Sunday night after apparently suffering a seizure and collapsing in the hallway of an on-campus residence hall.
He was identified as Andrew Rotman, 19, a sophomore from Cawker City majoring in physics.
KU Public Safety officers were called to Templin Hall at 8:27 p.m. to a report of a resident having a seizure on the fifth floor, said Capt. Mark Witt, a department spokesman. Officers performed cardiopulmonary resuscitation on Rotman, and he was taken to Lawrence Memorial Hospital where he was pronounced dead.
An autopsy was scheduled for Monday, but no official cause of death had been released by the end of the day.
Rotman was a sophomore, although he was in his first year at KU. He was a 2005 graduate of Lakeside High School and a recipient of KU's Summerfield Scholarship, given to students graduating from Kansas high schools to recognize outstanding academic achievement, community service and leadership.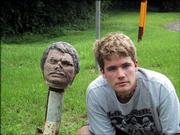 Rotman also was an officer in the KU Association of University Residence Halls. Counselors from KU's Counseling and Psychological Services sent grief counselors to meet with Templin residents.
"The sudden loss of such a bright young man who was filled with promise and who had already begun an active college career in the short time he was at KU fills us with great sadness," Chancellor Robert Hemenway said in a prepared statement. "We offer our heartfelt condolences to his family and friends."
Copyright 2018 The Lawrence Journal-World. All rights reserved. This material may not be published, broadcast, rewritten or redistributed. We strive to uphold our values for every story published.