Tens of thousands of people received aid from the Federal Emergency Management Agency using possibly fraudulent identities because the relief effort did not perform routine checks that might have flagged such activity, government investigators said Monday.
The extent of the fraud in the $6 billion relief effort has not been calculated, but it could reach hundreds of millions of dollars, investigators told the Senate Homeland Security and Governmental Affairs Committee, and it appears that the losses were limited only by the thieves' ingenuity.
"It was a mess. It was a system that was wide open to fraud," said Gregory Kutz, who led the investigation for the Government Accountability Office. "All you had to do was call FEMA on the telephone and lie and you could get money. It was just a question of how many people were willing to make false statements."
The main focus of Monday's testimony was FEMA's lack of financial controls as it doled out $2,000 checks to people who said they were affected by the storm.
FEMA representatives defended their procedures, saying the urgency of the situation did not allow for strict identity verification and they were focused on getting aid to desperate families as quickly as possible.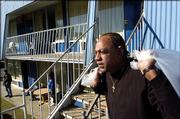 "It was the right thing to do," FEMA spokeswoman Nicol Andrews said. "We helped thousands of families who were forced from their homes without basic necessities. To slow down that process in order to find out who is trying to cheat the system would have hurt those who the system is designed to help."
She added FEMA was helping investigators pursue criminal cases against those suspected of fraud. "We are enforcing a zero-tolerance policy," she said.
Investigators, however, concluded that although getting aid to victims quickly is a priority, "more can be done" to check recipients' addresses and Social Security numbers using computers.
Investigators said that so far they have learned about 1,000 people who applied for aid used the Social Security numbers of dead people, 1,000 used numbers that were never issued and tens of thousands used names, birth dates and Social Security numbers that did not match.
The GAO report was accompanied by testimony from Richard Skinner, the inspector general of the Homeland Security Department. He noted FEMA might have purchased too many manufactured houses and FEMA is now paying to store and maintain them at various places nationwide. At one site in Hope, Ark., there are 10,777 manufactured houses sitting on runways and in open fields.
"The homes are sinking in the mud," according to Skinner's testimony.
Copyright 2018 The Lawrence Journal-World. All rights reserved. This material may not be published, broadcast, rewritten or redistributed. We strive to uphold our values for every story published.