Sunset Hill School Principal Chris Bay didn't have to say much last week to get parents and other members of the community to help Shawna Downing's family, whose house was severely damaged in a fire Tuesday.
"I had people handing me $50 bills and pulling money out of their pockets," Bay said.
About $300 was donated earlier in the week, and the family has also been offered food and lodging.
"The community is so friendly and helpful. These people are down on their luck right now. Whatever we can do to help," said Doug Holiday, owner of Bigg's Barbecue.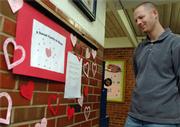 Holiday's son is a student at Sunset Hill, where Downing's son, Austin, is a second-grader. Holiday has offered a free meal from his restaurant to the family and was working to get other restaurants to do the same.
Downing also has a 1-year-old child and 2-year-old child.
The family stayed at the Lawrence Holidome for three nights, courtesy of the American Red Cross. Hampton Inn and Best Western of Lawrence have also donated rooms for the family, Holiday said.
The home Downing rented at 3405 Oxford Court caught fire when clothing too close to a water heater ignited. The house sustained significant damage.
"They lost everything. They have nothing," Holiday said.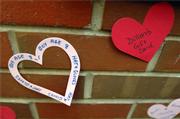 Sunset Hill's family and student support team has worked to get a list of needs from Downing. Today, a wall at the school will be covered with hearts listing things the Downing family needs, and students can choose a heart and provide the needed items, Bay said.
Gift certificates for clothing or other donations are also being accepted at Sunset Hill School, 901 Schwarz Road, or at Bigg's Barbecue, 2429 Iowa, Suite E.
Copyright 2018 The Lawrence Journal-World. All rights reserved. This material may not be published, broadcast, rewritten or redistributed. We strive to uphold our values for every story published.