Nothing better to keep you warm in Saturday's snow and cold than a big, thick quilt. And, maybe, a slice of hot apple pie.
So all afternoon Saturday, patrons flocked to the ninth annual Pie Sale and Quilt Show at Plymouth Congregational Church, 925 Vt., taking their time to peruse the displays of quilts that had kept families warm for generations.
Across the room, a long table held dozens of homemade pies - pumpkin, apple, you name it - all on sale for eight bucks apiece.
The proceeds here go toward the Douglas County ICAN Friendly Visitors, a nonprofit organization sponsored by Catholic Charities that provides in-home service and assistance for the elderly.
Local churches and individuals brought the quilts. People walked through the rows of hanging fabrics, some as old as the Oregon Trail, examining the patterns, colors and materials.
But the quilts, and the process of quilting itself, is about family - about handing patches of one family's life to the generations to follow.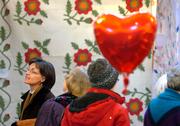 Camilla Swenson, a member of Trinity Lutheran Church, has shown her family quilts at the events for years.
She found Mary Beth Johnston, who brought in a family quilt her great-aunt made in Kentucky in the 1840s.
Johnston walked over to a white, square quilt with green and red flowers stitched to it. It's clean and delicate, every hand-sewn stitch still clinging to its place.
"I almost didn't bring it up because I'm so proud of it," she said. "I didn't want it to get away from me."
The quilt, just an arrangement of fabric and thread, has become part of her family's history. At some point, she said, she'll pass it along to one of her three children.
But until then, Johnston, a quilter herself, has given all her children their own quilts - just fabric and thread, but a gift from her generation to theirs.
Copyright 2018 The Lawrence Journal-World. All rights reserved. This material may not be published, broadcast, rewritten or redistributed. We strive to uphold our values for every story published.