A shortage of teachers in tough-to-fill subjects such as math and science is causing some Kansas school districts to look overseas.
Administrators from Topeka's USD 501 went to the Philippines a month ago and found two recruits who will arrive this August to begin teaching. The school district already has a total of 12 international teachers, who hail from countries including Colombia, Spain and Ghana.
"We are trying to do our level best. Whatever they want, we are doing," said Needa Marwaha, a math teacher from India who works in USD 501.
About a dozen teachers from Spain have been brought to Kansas in recent years to teach in cities with large Spanish-speaking populations, such as Garden City, said Martha Gage, director of teacher education and licensure for the Kansas State Board of Education. Gage said a program in the works could eventually bring teachers from China.
No exact numbers were available this week, but Gage said international teachers made up a tiny fraction of the 33,000 teachers in the state. She said those from other countries must have credentials similar to what's required of teachers from the U.S.
"It's not like we're just opening up the doors and saying, 'Anyone who wants to teach, come in and we'll give you a job,'" she said. "But when we have trouble finding particularly math and science teachers, then I understand that districts want to go wherever they can to find teachers who fulfill those responsibilities."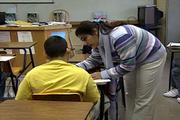 Christy Levings, president of the Kansas National Education Assn., said the recruitment of overseas teachers was masking a bigger problem.
"Really, you're going have to look at the elephant in the room and say 'What's the real problem?'" she said. "Districts are not investing in salaries and benefits."
Gage acknowledged that pay was one of the biggest obstacles to finding teachers for certain subjects.
"It's the areas where we just don't produce enough teachers because people can make more money than they can in teaching, plus have better benefits," she said. "We're working on it, but we certainly haven't solved that problem yet."
Mary Rodriguez, director of human resources for USD 497, said Lawrence schools had not undertaken any efforts to bring in teachers from other countries. At this point, the district's Web site is enough of a recruitment tool, she said.
"We've been able to get very high quality math and science teachers apply," she said. "We have a pool from which to select, and we think we get great teachers."
Copyright 2018 The Lawrence Journal-World. All rights reserved. This material may not be published, broadcast, rewritten or redistributed. We strive to uphold our values for every story published.