When Donna DeCarlo looks outside her rural Lawrence home near Clinton Lake, she sees beautiful, tranquil Douglas County countryside.
What she doesn't see is a lot of opportunities to catch a ride to her job at the Kansas Department of Health and Environment in Topeka. So, she continues to do what she has for the past 14 years. She hops in her car and makes the 60-mile round-trip by herself each day.
"Car pooling would be all right, but from where I live I really can't," said DeCarlo, an environmental geologist at KDHE.
Not so quick.
Just like computers came to the aid of those who thought they'd never be able to find a date, Lawrence leaders are on the verge of using the technology to help potential car-poolers hook up, too.
City commissioners at their Tuesday evening meeting are scheduled to give approval for the Lawrence Transit Service to move ahead with efforts to jointly purchase a computer ridesharing software system with the Kansas City-based Mid-America Regional Council.
"It is kind of like a dating service for commuters," said Cliff Galante, administrator of Lawrence's public transit system. "You put in a user profile, and it puts you in contact with people who might be a good match."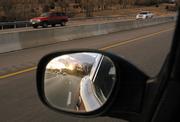 The system, which will be free for users, asks questions such as where you work and live, what time you go to and from work, whether you have a smoking preference and other tidbits that could either foster or rule out a connection. The system - which could be in operation by May - provides an e-mail address or other contact information so people can decide on their own whether to begin car pooling.
Galante said the two organizations were exploring a program called GreenRide that is being used in the North Front Range area of Colorado, which includes Fort Collins, Greeley and other cities.
Catharine Fallin, a manager for the program in Colorado, said 3,000 people had signed up seeking a match since the program began in November 2004. And when gasoline prices this summer neared $3 per gallon, the number of people signing up each month increased by more than 300 percent.
"We think it has the potential to catch on because we saw a huge influx of people when gas prices went up," Fallin said. "And really, it is a given that the long-term trend for gas prices is up."
Sharing costs
Lawrence would seem to have the necessary ingredients to make the system work, too. Gasoline prices are on the rise and the community has a sizable number of people who leave the city to work each day. A 2005 U.S. Census report found nearly 12,000 Lawrence residents commute to a job outside the city. About that many also commute in from smaller counties such as Jefferson and Franklin counties. Residents in those counties would be allowed to use the new Lawrence service.
"For us the goal is really to try and reduce the congestion on area roadways, and particularly in Kansas City, to try and improve the air quality," Galante said.
For motorists, the goal likely would be to save a few bucks. Dana Lovern, who lives near Perry Lake, and Deb Young, Lawrence, began car pooling together late last year. They said the savings added up.
They estimated they spend about $60 per month on turnpike tolls and about $160 to $200 per month in gasoline as they commute from Lawrence to Kansas City. Now they are able to split those costs instead of bearing the burden alone.
That makes the daily trip a little easier, but the two women, both teachers, said they would still rather work in Lawrence.
"They just pay better in Kansas City," Lovern said. "That gets frustrating to think about."
And many commuters said simply moving closer to work wasn't a feasible option, or at least not one they wanted to consider. Young has a husband who works in Lawrence and two children who would have to move.
"I can't move," Young said. "I mainly just get in the car every day and try not to think about it too much."
But for both women, the commute turns their eight-hour workday into something closer to a 12-hour routine. Young said the extra time away from home makes it tough on family.
"I refused to commute when my kids were small," said Young, whose children are now 17 and 20. "You just miss out on too much. Now when I leave every morning, they're still sleeping. Of course, that's what I miss out on: sleep. You definitely miss out on some sleep."
Copyright 2018 The Lawrence Journal-World. All rights reserved. This material may not be published, broadcast, rewritten or redistributed. We strive to uphold our values for every story published.