Overland Park — The potential game-winner hung in the air, and Kristian Pope felt helpless.
His three-point shot at the buzzer needed help. Help he could not give.
"I thought if I got it to hit the backboard, it might have a chance," Pope said. "I was kind of leaning with it."
The heave was too strong for the net, but not strong enough for the bank, bounding off the back iron to secure Shawnee Mission West's 68-66 victory Friday night over LHS.
With his fists under his chin, Pope was left staring at the ceiling as Viking students poured onto the court in jubilation.
"Sometimes it goes, sometimes it doesn't," Pope said, "and that one didn't go."
Though inches kept LHS from victory, the Lions' spirits were high.
"Our teamwork has not been great as of late," Lawrence High coach Chris Davis said, "and tonight, we threw it down and played as a team. We played as well as I've seen us play maybe all year long."
The Lions rallied in the final six minutes after trailing, 59-51. Consecutive baskets from Nathan Padia and Pope started the comeback, which was completed by Chance Riley three minutes later.
After a timeout, the junior peeled around a screen and calmly drained a 22-footer to knot it at 66 with 14 seconds remaining.
"Having a chance to win on their court with a huge crowd was a testament to how we fought," Davis said. "I'm very proud of the way things went down."
David Leonard became the hero for West, driving in for a one-armed floater and the game-deciding points.
Pope took the inbounds pass in mid-stride, losing the ball momentarily before launching the open three.
Photo Gallery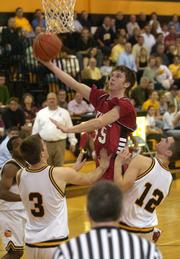 LHS vs. Vikings
"We got off a very good shot that just didn't go to win the game," Davis said. "I don't know what more you can ask for."
Though it was played in Overland Park, the game had a distinct Jayhawk feel. Tyler Lawrence, who has signed to play quarterback for Kansas University next season, led all scorers with 23 points.
After one layin and foul in the third quarter, the West fans even sang the "Rock Chalk" chant.
Tyler Knight paced LHS with 20 points, making five of his 10 shots from beyond the arc. Riley contributed 13, and Pope added 10.
The Lions fell despite making 12 of their 28 attempts from three-point range (43 percent) and 12 of 14 free throws (86 percent).
"One shot short," Pope said, "but we're happy we played together. We haven't been doing that a lot lately. At least we got that out of it."
Copyright 2018 The Lawrence Journal-World. All rights reserved. This material may not be published, broadcast, rewritten or redistributed. We strive to uphold our values for every story published.