The "inconsistent" tag doesn't sit well with Bryan Duncan.
Sure, his Free State High girls basketball squad is two games above .500. But with six losses to teams ranked in the top seven in the Kansas Basketball Coaches Assn. Class 6A poll, Duncan isn't griping.
Photo Gallery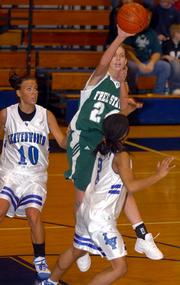 Lady Firebirds vs. Pioneers
Instead, he's taking solace in the Firebirds' ability and willingness to finish off the teams they're supposed to beat - like Friday night's 50-32 victory over Leavenworth in the Pioneers' gym.
Using a balanced scoring attack and a defense that forced 23 turnovers, the Firebirds (9-7 overall, 4-3 Sunflower League) kept alive their shot at securing a coveted No. 3 sub-state seed.
"We beat a good basketball team on their home floor for the second time this week," said Duncan, alluding to Tuesday's victory over Shawnee Mission Northwest. "I'd say that's getting some things done."
Leavenworth (6-9, 3-4) used its speed and second-chance opportunities to forge a 16-14 lead midway through the second quarter.
Free State answered with a 10-0 run, including five points from reserve guard Sarah Craft, and took a 24-18 lead at the half. From there, the Firebirds steadily put the game out of reach.
"It just seemed like we were playing and hitting our shots and being aggressive like we needed to," said junior Kelsey Harrison, who finished with seven points.
Junior guard Lauren Kimball paced Free State with 14 points.
"I think we are a team that has a lot more potential than we've been showing this year. I think we can hang with those teams," Harrison said. "I wouldn't really say we've been inconsistent, either. I just don't think we've played to our potential."
The Firebird girls travel Monday to SM North.
Leavenworth boys 55, Free State 48
The Firebirds battled the Sunflower League's lone unbeaten team for 23 minutes before an 8-0 run by the Pioneers bridging the third and fourth quarters.
Photo Gallery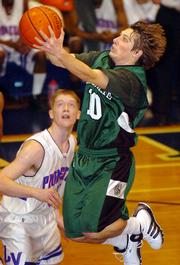 Firebird boys vs. Pioneers
"We gave 'em a great shot," Free State coach Chuck Law said. "Our kids played fantastic tonight, absolutely competed their tails off, and of greater significance were mentally focused."
Christian Ballard and Weston Wiebe each scored 11 points for the Firebirds (5-11, 1-6).
James Manthe led Leavenworth (13-2, 7-0) with a game-high 18.
Law is optimistic after Free State's most recent near-miss.
"We re-identified ourselves tonight," Law said. "We may have found ourselves again tonight, and I think our kids are really looking forward to the next four games."
Free State's boys travel Tuesday to SM North.
Copyright 2018 The Lawrence Journal-World. All rights reserved. This material may not be published, broadcast, rewritten or redistributed. We strive to uphold our values for every story published.