Mike Herschell often found himself distracted at Royal Crest Lanes on Thursday. He might have bowled his best because of it.
"I try to just sit down and not focus on anything - not even bowling," Herschell said. "I just try to keep my mind off bowling until I get up to the lane."
It seemed to have worked for the senior, who posted a tournament-high 691 series to help lead the Firebird boys to a team victory in the four-team tournament in their home alley.
Herschell started off strong, rolling games of 267 and 239 early while keeping his mind clear of everything - bowling included.
"If I keep thinking about it, I'll do really bad," Herschell said. "The nerves will get you then."
After he was announced as the top bowler, Herschell was mobbed by teammates who messed up his hair and gave him a few good-natured jabs.
Free State coach Anita Carlson said she was most pleased with the senior's consistency and ability to control his emotions in what can be a frustrating sport.
"He doesn't really let anything else affect him," Carlson said. "That's the best quality an athlete can have."
The Firebirds finished with a 2,422 pins overall, outpacing second-place Topeka West by 228 pins.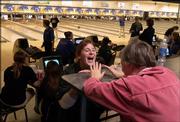 Nick Kennedy's second-game 225 helped propel him to a 585 series, while Kenny Altman (578) and Tyler Bradshaw (568) also contributed to the team score.
On the girls' side, Free State placed second thanks to a breakout performance from Kali Conrad.
Though she only began bowling last year with her father, the sophomore led the Firebirds with a 479 series.
"I haven't been bowling for very long, so it was exciting," Conrad said. "Being consistent is all you have to shoot for."
Conrad was exactly that, overcoming the jitters of a home tournament to contribute games of 151, 177 and 151.
Carlson said much has changed for Conrad since tryouts, when the sophomore was still rolling a conventional straight ball down the lane.
"We sat there and said, 'There's some skill. There's some talent,'" Carlson said. "It was raw talent, but it was there."
The girls' 1,844 team points placed them second behind Topeka West (2,117).
Copyright 2018 The Lawrence Journal-World. All rights reserved. This material may not be published, broadcast, rewritten or redistributed. We strive to uphold our values for every story published.