Privacy for those who get an abortion is "certainly important," Kansas Atty. Gen. Phill Kline said Thursday.
"But no one has the right to keep their rape of a child private," Kline said during an online chat on the Journal-World's Web site.
Before coming to Lawrence to participate in the chat, Kline told a group of legislators in Topeka that a ruling last week from the Kansas Supreme Court regarding subpoenas of medical records from two abortion clinics supported his position.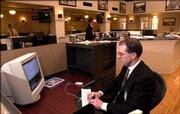 In dispute was an investigation initiated by Kline. Shawnee County District Court Judge Richard Anderson, at Kline's urging, issued subpoenas for medical records of 90 women and girls. Kline alleged the records could show instances of illegal late-term abortions and child abuse. The clinics said Kline was on a fishing expedition.
A week ago, in a unanimous decision, the state Supreme Court said the judge must reconsider whether to continue the investigation and, if so, to ensure that patients' privacy rights are protected. The Supreme Court also scolded Kline for public statements he made in the case.
During the online chat, Kline was challenged about the investigation by several questioners, including one who accused him of being on a "witch hunt."
Kline responded that since serving as attorney general, there have been 700 cases of adults sexually exploiting children that his office and the KBI, which he oversees, have investigated, referred for investigation or prosecuted.
"Evidence of these crimes comes from numerous sources including hospitals, doctor's offices, nurses, SRS and, yes, live birth records. This simply has not been reported in the media as we do not make the particulars public in order to protect the privacy of victims," Kline said. "Furthermore, I want to point out that I wrote the laws that help prevent the publication of sex crime victims."
One questioner said Kline shouldn't have the right to subpoena abortion records.
Kline said his office had medical records in almost every violent crime case prosecuted. He said medical records were critical in the BTK killer's arrest. Privacy is protected for all involved, he said.
"It was a judge that issued these subpoenas, not my office," he said.
For a full transcript of Kline's chat, go to www2.ljworld.com/news/chats/.
Copyright 2018 The Lawrence Journal-World. All rights reserved. This material may not be published, broadcast, rewritten or redistributed. We strive to uphold our values for every story published.