As funeral arrangements were being made Tuesday for a man killed in a downtown shooting, police returned to the crime scene to investigate new gunshot evidence.
But at day's end, no arrests had been made in the early Sunday shooting that killed 46-year-old Robert Earl Williams and injured another man outside the Granada, 1020 Mass. The funeral director who is handling Williams' arrangements said his family had no comment.
"We really don't know what happened, and they don't know themselves," said Larry Johnson of Bowser-Johnson Funeral Chapel in Topeka. "They just know he was down there (in Lawrence). They hate to speculate right now, they're in so much pain."
Early Tuesday afternoon, officers returned to the alley behind the Granada after an employee of a nearby business reported finding a piece of gunshot evidence. But LPD officials said they would not comment about the report or release any new details of the investigation, which they previously said was focused on areas outside Lawrence.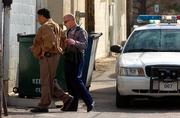 Meanwhile, the Denver-based hip-hop record label that sponsored the concert before Sunday's shooting issued a news release blaming the shooting on a "lack of security" at the Granada. Representatives of Upset Records said the Granada had agreed to provide security to escort the artists out of the club and watch the door as people left the show.
But the club's owner, Mike Logan, called that claim outrageous, given that the shooting happened outside more than half an hour after the club closed.
"This is ridiculous to an extreme," Logan said. "This is fabricated. : That's nothing we agreed to or would ever agree to."
Police said the shooting happened shortly before 2:15 a.m. when a fight broke out among a group of about two dozen people who had gathered on the street to wait for performers and the announcement of an after-hours party.
Williams was across the street when he was shot. The other victim, a 22-year-old man, ran into the Granada after being shot and was flown by air ambulance to a Kansas City hospital.
He remained hospitalized Tuesday, but an update on his condition was not available.
Logan said there were no signs of trouble inside the club before it closed.
"We don't know what the altercation is over, and we have no idea what spurred this," he said. "It's not hip-hop or hip-hop shows. It's ignorant people who may or may not want to do something when they come to town. I don't feel like it's the music."
Logan said he was willing to work with city leaders to resolve concerns about public safety. The shooting came after police had seized handguns during six incidents downtown since the beginning of the year.
"We've made ourselves very available to the city and want to work with them and listen to them and be part of the answer to whatever this is," Logan said. "I'm interested in protecting downtown because that's what makes Lawrence. : We will take more time in considering events or acts to put on at the Granada after this event."
Copyright 2018 The Lawrence Journal-World. All rights reserved. This material may not be published, broadcast, rewritten or redistributed. We strive to uphold our values for every story published.