A convoluted and corrupt campaign finance system is the biggest hurdle for women aspiring to the nation's highest political office, former presidential candidate Carol Moseley-Braun said Tuesday.
"It is a challenge to democracy that our methods of electing people are constructed in ways that keep a lot of people with talent out of the political arena," Moseley-Braun said at a news conference preceding her lecture Tuesday evening at the Dole Institute of Politics.
Moseley-Braun, the first black woman elected to the U.S. Senate, spent about five months in late 2003 running for the Democratic presidential nomination. She dropped out in January 2004 after her campaign failed to gather momentum.
A self-described "recovering politician," Moseley-Braun now has an organic food business.
Early campaign contributors tend to favor traditional candidates for the nation's top seat, Moseley-Braun said.
"Because I couldn't raise money, I was never perceived as a serious candidate by the pundits," she said. "That was as much as anything a commentary of the way the process works. It wasn't my campaign. I was certainly as qualified, if not more qualified, for the job than many of the guys who were running."
Overcome the fundraising hurdle, Moseley-Braun said, and the time is ripe for a woman to take the White House.
"I believe the tipping point has been reached," she said.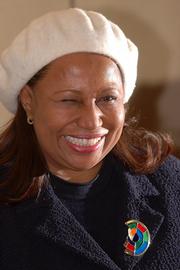 And some agree.
According to a 2005 poll conducted by Roper Public Affairs and commissioned by The White House Project, 79 percent of respondents reported being comfortable with the idea of a female U.S. president.
Marc Langston, head of KU Young Democrats, made a television advertisement promoting Hillary Clinton.
"Everything I say in the ad I do believe makes her a strong candidate," he said. "She knows how to balance her family and her commitment to public service."
But Langston, who is pondering which campaigns he might like to help, said he's not ready to join Clinton's camp or to consider her as a viable presidential candidate.
"There's a lot of cognitive dissonance against Hillary Clinton for various reasons," he said. "She's got a lot of negative press. Whether it's true or not, it's hard to overcome that negative press."
But Langston said he thinks female candidates have a shot at the presidency.
Karen Bentley, head of KU's College Republicans student group, said she expects to see a female president in the future. But gender won't be the driving issue, she said.
"I really do think it'll be a matter of policies rather than a matter of gender," she said.
The Dole Institute's "The First Woman President" series continues with a lecture by journalist Eleanor Clift at 7 p.m. Sunday. Pollsters Celinda Lake and Kellyanne Conway will visit at 7:30 p.m. Feb. 14. Former governors Jeanne Shaheen, D-N.H., and Jane Swift, R-Mass., will appear at 7:30 p.m. Feb. 28.
The latest additions to the program are two presidential campaign managers. Sen. John Kerry's campaign manager, Mary Beth Cahill, and Tom Daffron, who led Elizabeth Dole's 1999 bid, will speak at 7:30 p.m. Feb. 22.
Copyright 2018 The Lawrence Journal-World. All rights reserved. This material may not be published, broadcast, rewritten or redistributed. We strive to uphold our values for every story published.