Ross Fishman always went along on Christmas caroling trips with his high school choir.
Being Jewish, he was more in it for the experience than the message.
Now a sophomore at Kansas University, Fishman has found a new place for his vocal skills to belong: Sharim Netzim, an a cappella group of Jewish students singing Jewish music.
"It's a fun way to be entertained and spiritual at the same time," says Fishman, who is from Minneapolis, Minn. "I'm really happy I get to sing Jewish music."
Sharim Netzim - pronounced "sha-REEM net-ZEEM" - means "singing hawks" in Hebrew, a reference to the Jayhawk mascot. The 12-member group is starting its third year at KU.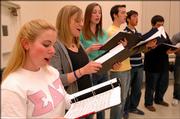 It's not one of KU's official choirs sponsored by the music department. Instead, it's a casual group of students who gather once or twice a week. Fishman, the only music major in the choir, serves as director.
Sharim Netzim sings a variety of Jewish music, mostly in Hebrew. While most of the music is based on liturgy and psalms, it is a variety of older and newer arrangements. The group performs two to four times a semester.
"Historically, the best music is Christian music," says Andrea Patten, a junior also from Minneapolis. "We wanted to be part of something where we could mix our cultural background with something we love to do."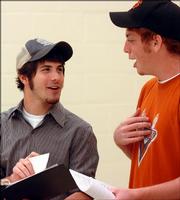 Jay Lewis, director of KU Hillel, a Jewish student organization, says Jewish a cappella groups are popular on the East Coast and at larger campuses.
Hillel has provided financial support and performance opportunities for the group.
"It's an opportunity to use their talents, and it's consistent with their identity and who they are as Jews," Lewis says. "They take a real sense of pride in it."
Carolan Glatstein, a sophomore from Denver and Sharim Netzim member, says she "stepped out of the shower and got brave enough to sing in public" because of the music the group sings.
"It's a way to get away from liturgy and also a way to rejuvenate it," Glatstein says. "This is play time for me, but it unexpectedly added something really spiritual."
Copyright 2018 The Lawrence Journal-World. All rights reserved. This material may not be published, broadcast, rewritten or redistributed. We strive to uphold our values for every story published.