In Douglas County, the fairy godmothers come through.
They helped buy an $83 set of scrubs so a nurse's aide could take a job.
They paid $250 to repair a woman's car so she could make it to work and not lose her job.
They also helped buy a new water heater for an elderly woman so she and her son could stop living on only cold water.
Founders and other members on Friday celebrated The Fairy Godmother Fund's second full year of helping provide services for women in Douglas County to fill short-term and critical needs.
In the beginning, nearly 800 women donated and helped raise about $100,000 into an endowed fund, invested with the Douglas County Community Foundation.
"People have been involved in a real grassroots operation. It's been kind of magical in that way," said Judy Wright, a chairwoman of The Fairy Godmother Fund's steering committee.
The steering committee helped grant more than $3,900 in small gifts to help 24 women in 2006. The gifts on average are about $165. They are granted from interest earned on the endowment.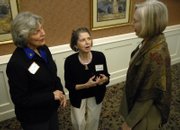 Also during Friday's celebration at the Smith Center of the Brandon Woods Retirement Community, steering committee members and United Way of Douglas County leaders announced The Fairy Godmother Fund has been named a nonfunded affiliate of the United Way.
The partnership will allow the two organizations to continue to work together and enhance the visibility and effectiveness of both, said Jo Bryant, the United Way's director.
The United Way will help manage donations and distribute funds for The Fairy Godmother Fund, but the fund will not receive any United Way funding.
Helen Edwards, president of the Welcome Club of Lawrence, also announced Friday the organization raised more than $1,800 each for The Fairy Godmother Fund and Health Care Access Clinic during a November auction.
Copyright 2017 The Lawrence Journal-World. All rights reserved. This material may not be published, broadcast, rewritten or redistributed. We strive to uphold our values for every story published.