Lawrence High's Nathan Padia saw the poster board in the Free State crowd, saying, "Padia is soft."
So after the LHS senior calmly sank his free throw with 1.1 seconds remaining, he turned to the Free State section and placed his index finger to his mouth to hush the Firebirds faithful.
"I had to throw a little something at them, too," Padia said. "It was a heat-of-the-moment thing."
After Padia intentionally clanged the second free throw, the clock expired, giving the LHS boys basketball team a 43-42 victory at Free State on Thursday night.
Lions fans rushed the floor. Boys embraced their girlfriends. Point guard Daniel Green hugged his grandmother.
Green had reason to exult. The Firebirds led 42-39 after Free State senior Weston Wiebe, who scored nine points, missed two free throws. With six seconds left, Green nailed a three from the corner to tie the game.
Prior to that clutch shot, Green, who attempts 100 threes a day, had not scored. But LHS coach Chris Davis imparted his confidence in him before the play.
"You're going to get a three," Davis said. "And it's going to go down."
After Green made the shot, Padia stole a pass, and Free State junior Kris Wilson fouled him to set up the game-ending free throws. Once Padia hit the first one, Davis instructed him to miss the second to force the remaining time to elapse. The senior then asked his coach which side of the rim to aim for.
"Just miss it and hit the rim," Davis said. "That's all I care about."
Photo Gallery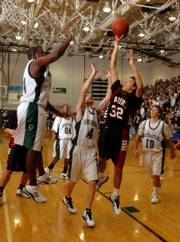 LHS vs. FSHS Boys
The game's climatic finish seemed unlikely early. The Lions scored only four points in the second quarter as Free State took a 22-13 halftime lead. LHS did not score in the first three minutes, and Free State bolstered its margin to 30-13 as Wilson penetrated through the heart of the Lions' defense.
"We didn't do a very good job of executing and playing team basketball," Davis said.
The Lions (4-2) used their defense to speed up the game's pace and stormed back with a 17-2 run late in the third quarter to end the frame down just 31-30.
"They picked up the tempo with their half-court trapping, and we didn't handle it very well," Free State coach Chuck Law said. "We got out of our character, and they started making shots they hadn't been making."
One Free State fan penned a sign, saying, "It's about time you made this a game."
LHS sophomore Dorian Green, who finished with five points, also helped narrow the deficit. Seeing his first action in the third quarter, he steadied the team and provided solid defense against the quicker Free State guards.
"When Dorian came in," Davis said, "it was just like this little bit of magic happened."
Late in the fourth quarter, Dorian Green entered on defensive possessions, and Daniel Green entered on offensive plays. Dorian initially entered the game because Daniel hit his head late in the first half and felt woozy.
"During halftime I was out of it," Daniel Green said. " I feel great right now ... it's the best feeling in my life."
Both teams seemed to feel nervous in the first quarter, which led to sloppy play. Free State (3-3) committed nine turnovers, and Wiebe had five of his team's six points as LHS led, 9-6.
"They look forward to this game for a whole year," Davis said. "They're so emotional that the first quarter is usually pretty ugly, and everybody runs out of gas pretty fast."
Both teams combined for a mere 28 field goals during the entire contest, with the 5-foot-9 Wilson leading all scorers with 17 points and looking like the fastest player on the court.
"He was on tonight," Daniel Green said. "He's a shifty guard."
Free State did an excellent job of driving into the lane to initiate contact and racking up fouls against LHS. But the Firebirds could not convert, hitting just 18 of 35 from the line. The Lions made of five of 13 free throws and hit six threes.
For Free State the futility at the line and from the three-point line - zero long range shots on the night - added up to its most heartbreaking loss in recent memory.
"We had a tough loss to Topeka High in the sub-state last year, but we didn't blow a big lead," Law said. "I would say this is the toughest loss."
For LHS, the victory only will enhance its holiday vacation as both teams begin their two-week break.
"It was gonna be good," Padia said. "But now it's going to be great."
Copyright 2018 The Lawrence Journal-World. All rights reserved. This material may not be published, broadcast, rewritten or redistributed. We strive to uphold our values for every story published.