All 16-year-old Ben Lauridsen had to do to find some extra cash to do his Christmas shopping this year was give up a couple of his old video games.
The Free State High School junior traded the games into Game Nut Entertainment, 844 Mass., for about $20. It was enough to buy some gifts for his parents and siblings.
Some Lawrence merchants say the buyback business typically picks up this time of year.
"It's the season when everybody's looking for a little bit extra cash," said Chris Jones, manager at Hastings Books, Music & Video, 1900 W. 23rd St. "We do have people that are bringing in a little bit more than usual."
At several stores, people can turn in items, such as old video games, DVDs and CDs for either cash or store credit.
"At Christmastime, you do get a bump. People are hard up for cash in trying to get gift money, but then again it's not as big a bump as the beginning of school year," said Steve Wilson, store manager at Kief's Downtown, 823 Mass.
In August, many students are moving around town, so they typically want to get rid of some of their belongings, he said.
Wilson said his store can take in anywhere from hundreds to more than 1,000 used items in a day.
He estimated the used items account for about 6 percent of the store's sales and about 30 percent of his stock.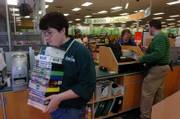 At Game Nut Entertainment, Gene Nutt runs his entire business on customers bringing in video games, CDs or DVDs. He takes in hundreds of items daily and restores them.
"Sometimes people just need gas money. Sometimes they need more cash," he said. "Absolutely, items sell for Christmas presents."
This season, Nutt has seen people of all ages trade in items for cash or other games to give as presents.
Other merchants say the year-round business typically involves a certain population who play games or listen to music a few times before turning them in for something else.
"There's always a reason. For some of our regulars, though, it's kind of a matter for pruning their gardens essentially," said Wilson, the Kief's Downtown manager. "They enjoy it, and then buy something else."
Copyright 2018 The Lawrence Journal-World. All rights reserved. This material may not be published, broadcast, rewritten or redistributed. We strive to uphold our values for every story published.