Photo Gallery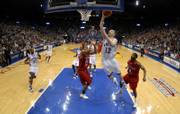 KU vs. Winston-Salem State
Lets be honest: Kansas University didn't have a ton to gain by blowing out an undersized, overmatched Winston-Salem State team at home Tuesday night.
It didn't matter, as KU still took the opportunity to get its running game going again. A huge factor in that taking place, aside from 24 Rams turnovers, was the lob play, a personal favorite of coach Bill Self's high-flying top talents.
"When you get a dunk, I think that just drains their confidence," said junior Russell Robinson, who had five of the Jayhawks' 29 assists. "Every time we got a dunk, I saw them just kind of get down on themselves like, 'Oh, man.' Almost like embarrassment. But that's just one of the pieces of our offense, and we've got to continue to execute it."
KU had seven throwdowns on the night, but several of those came via the basketball equivalent of a one-timer.
Right off the bat, KU's first points came on a Sasha Kaun dunk off of a perfect Mario Chalmers lob from the left wing. On KU's next possession, a lob came in for Julian Wright, who in mid-air collected it and softly banked it off the glass.
Audio Clips
2006-07 Dec. 19 KU-WSS Hoops
The Jayhawks enjoyed another stretch of that fashion in the second half, when Kaun put down a perfect lob from Brady Morningstar, and it was followed with Darrell Arthur finishing off an alley-oop of his own.
"They say a dunk is two points," Kaun said. "But I think a dunk gives you momentum in the game."
Of course, while the finishers got most of the glory, KU's guards were as smooth as they'd been all season in transition settings.
On top of Chalmers' eight assists, Russell Robinson sent out five of his own, and Sherron Collins played one of his best games all season, speeding up the offense at will. KU also registered 13 steals on the night.
"I think that's (the case) for any team you play against," Brandon Rush said of the dunk being a demoralizer. "I think our goal was tonight just to play our type of game and get back to the old Kansas we used to be."
Copyright 2017 The Lawrence Journal-World. All rights reserved. This material may not be published, broadcast, rewritten or redistributed. We strive to uphold our values for every story published.