It's about 5:10 p.m. on a Wednesday, and the Free State High girls basketball team is about to finish practice. The Firebirds gather near the side of the court to watch senior guard Lauren Kimball shoot a foul shot. No one is near her.
The team watches with interest. If Kimball misses the free throw, FSHS coaches will make the team run extra "down-and-backs" before everyone goes home.
After a few dribbles, Kimball stares at the basket, appearing as laid-back as John Elway during the two-minute drill. Her feet barely leave the ground as she shoots a perfectly arched foul shot that hits nothing but nylon. Relieved teammates congratulate Kimball with high-fives.
This type of pressure is commonplace for Kimball. She's the unquestioned leader of the Firebirds, who were ranked in the top five in the Kansas Basketball Coaches Association Class 6A poll before the season. She's a McDonald's High School All-American nominee, but her humble state of mind likely wouldn't tell anyone about the honor. Her play on the court would leave few doubts about her All-American status, though.
Kimball has averaged nearly 13 points per game for Free State this season. The Firebirds (4-1) will look to her even more since an ankle injury has kept senior guard Jenna Brantley out for two games.
What was it like playing without Brantley last week?
We've played together since ninth grade. On the court, we know where the other one's going to be. Junction City was actually the first game that I've ever played without her or started without her since ninth grade.
The Junction City game in the Metro Prep Classic was the first Free State loss (44-39) of the year. What kind of start to the season do you think the team has had?
We're still not happy about the Junction City loss. We don't want to make excuses - we should have won that game. I think we work well as a team. With Jenna out, we need people to step up and take that challenge. Of course, the people who usually play need to pick up for that slack.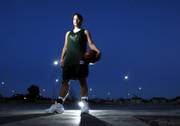 How do you display a sense of leadership on the floor?
I think by motivation and setting examples. I think by trying and playing hard in practice, others see what you do. I know that's how I was as a sophomore. I watched the seniors and what they used to do. Now I'm acting how they did when I was younger.
What's the strongest part of your game as a point guard?
For me, it's probably dribble penetration. Shooting, not so much, because I really haven't had to resort to that. I've worked on it for the past few years as I've started getting more serious about basketball.
Would you like to play basketball in college? If so, where would you like to play?
It's still a little iffy. I'm leaning more toward going for academics. Academics has become more of my focus after the past two years. If something came up (for basketball) that I was fortunate enough to have, then I would do that. But I'm not going to go to a junior college just to play.
When did you start playing basketball?
I started in sixth grade. I was the B-team kid and wasn't really serious about basketball at all. Then, about eighth grade, I improved after each year and stuck with it after that.
Do you remember any interesting stories about playing ball back when you were starting out?
I actually remember being on the Flames, which was an area team. I was on the B-team there, and Jenna and Kelsey (Harrison) were on the older team. I remember thinking, 'I wish I was that good.' I'd always look up to them and be amazed by all the things they could do. Now we've all been playing together for four years.
Who or what got you started on the game of basketball?
My dad played at Lawrence High. He and his older brother were really good over there. It was just one of those things where every kid tries every sport. Soccer was actually my main sport when I was little. I also played tennis my sophomore and junior years, and I'm just going to focus on basketball this year.
Copyright 2018 The Lawrence Journal-World. All rights reserved. This material may not be published, broadcast, rewritten or redistributed. We strive to uphold our values for every story published.