DAYTON, OHIO — Colleges around the country are devoting more time, money and staff power to students who can't decide on a major, concerned that many of them will leave school without graduating or will prolong their college careers and take up precious spots for prospective students.
Indecision can be costly for students, as well, in times of rising tuition.
College officials say many students were so focused on extracurricular activities in high school that they spent little time considering career choices.
"They are more sheltered and more accustomed to adults making decisions for them and keeping them on track," said Chrissy Coley, director of retention and planning at the University of South Carolina's Student Success Center.
Costly delay
Tuition and fees at public four-year public colleges this fall rose $344, or 6.3 percent, to an average of $5,836, according to the College Board's annual "Trends in College Pricing" report. At private four-year colleges, published tuition and fees rose 5.9 percent, to an average of $22,218.
But students who can't settle on a major risk extending their college careers and paying more.
The University of South Carolina this semester more than doubled its staff of advisers focusing on undergraduates who can't settle on a major. The school opened a center aimed largely at undecideds that will cost $580,000 a year to operate. The cluster of airy, glass-paneled offices includes group study rooms in which undecideds are tutored by fellow students in an effort to give them a connection to certain academic programs.
At Ohio University, a majors fair offering 60 fields-of-study booths with representatives from different colleges drew nearly 2,000 students, double what it did last year. Bulletin boards pinned with information about the major of the month are popping up in dorms at Western Michigan University.
Other university efforts
The University of Washington is so concerned about these students that advisers are seeking them out, peppering them with e-mails and postcards to get them to come in for guidance.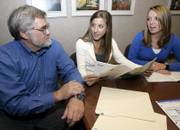 Laura Avila, assistant director of special programs, said each of her counselors has more than 600 students assigned to them.
"It's ridiculous," she said.
Of the 1,800 first-year students who entered the University of Dayton this semester, 39 percent had not settled on a major. That's the highest percentage in four years.
"We're finding the more you wander through the college experience, the less likely you are to stay," said Christine Schramm, assistant dean of students at the private Catholic school. "We are becoming aware that we need to do more."
Anne Pici, an adviser at Dayton, encourages students to take a variety of courses their first two years and then talk with teachers and upperclassmen in fields that have piqued their interest. She is counseling 12 undecided sophomores.
"All of them are panicked that they don't have a major," she said.
The University of Wisconsin, where about one-third of the 5,600 entering freshmen are undecided, sets up advisers in satellite offices in four dorms to make it easier for students to get help.
The program has grown steadily - there are 15 professional advisers and 13 peer advisers - since it began six years ago.
"What has changed is the institution's attitude toward this," said Timothy Walsh, director of the university's Cross-College Advising Service. "There's a huge shift."
Copyright 2018 The Associated Press. All rights reserved. This material may not be published, broadcast, rewritten or redistributed. We strive to uphold our values for every story published.