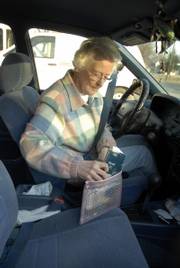 A burglar or burglars struck the parking lot of a senior citizens' housing complex during the weekend and stole $100 worth of Christmas presents from one resident's car, according to police reports.
"It's not right," said Ronald Devers, 60, who said he came down to his hatchback Saturday morning at Babcock Place, 1700 Mass., and found his door ajar and gifts of toy cars and clothing for his two grandsons missing from inside. "I cussed a little bit."
Dorothy Ingersoll, 80, said her Ford Escort also was burglarized but that nothing appeared missing.
"I didn't have anything in there that could be of any use to anybody. They just rummaged through looking for something," she said.
The thefts happened between 4:30 p.m. Friday and 7:30 a.m. Saturday, according to police reports.
Ingersoll said she'd heard of at least two other residents, in addition to Devers and herself, who had their cars burglarized, but reports from those cases weren't available Monday.
Babcock Place is operated by the Lawrence-Douglas County Housing Authority and is tailored for senior citizens.
Watch the 6News video report
Copyright 2018 The Lawrence Journal-World. All rights reserved. This material may not be published, broadcast, rewritten or redistributed. We strive to uphold our values for every story published.