The latest step in the long and controversial efforts to build the final leg of the South Lawrence Trafficway is taking place today.
Federal regulators until 7 p.m. today are hosting an open house and taking public comments on what route should be selected for the eastern leg of the project, which is designed to connect the Kansas Turnpike west of Lawrence with Kansas Highway 10 east of Lawrence. The open house is being held at the Kansas National Guard Armory, 200 Iowa.
The event, which started at 10 a.m., had attracted about 40 people by noon to look at a variety of placards and to ask questions of state and federal transportation officials. Most of the information is centered around the two route options that the Federal Highway Administration have determined are the most feasible: a 32nd Street route that would run the road through the Baker Wetlands; and a 42nd Street route that would avoid the wetlands by building the road south of the Wakarusa River.
Supporters of both route options were on hand this morning, in addition to people who really weren't sure yet what to think.
"I'm just seeking more details so I can get an informed opinion," said Lawrence resident Jeff Anderson, who said he was most concerned about selecting a route that did the least to impose on the environment and historical sites.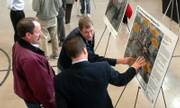 Imposing on the environment and the environment have been frequent concerns of opponents of the Baker Wetlands route, which would go through ground that is historically linked to Haskell Indian Nations University.
But supporters of that route have contended that the large amount of mitigation - including the creation of approximately 300 acres of new wetlands, woodlands and tall grass prairie - make it the best environmental option.
"It does surprise me to see the amount of mitigation that they are proposing," Anderson said. "It is good to see the details."
Others, though, were there to make comments in opposition to the 42nd Street route. The open house features a station that allows people to submit written comments, and there also is a stenographer on hand for people who want to deliver written comments in that manner.
"I'm still sticking with my original feelings, and that is that the 42nd Street route is better," said Saunny Scott, a Lawrence resident. "I think it is a better route because we need to be looking long range.
"And as a community, I think we really need to show more respect for Native Americans, and their land and their history."
People have until Jan. 5 to submit comments to the Federal Highway Administration. People can send written comments to: Wendall L. Meyer, assistant division administrator, Federal Highway Administration Kansas Division Office, 6111 S.W. 29th St., Topeka 66614.
A final decision on the route is expected to be made by federal regulators in June or July, Meyer said.
Copyright 2018 The Lawrence Journal-World. All rights reserved. This material may not be published, broadcast, rewritten or redistributed. We strive to uphold our values for every story published.