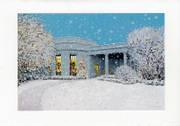 The return address may be 1600 Pennsylvania Ave., but this year's 1.5 million White House holiday cards actually originated from a slightly less stately address: 101 McDonald Drive.
For the sixth consecutive winter season, President Bush and first lady Laura Bush relied on the Hallmark Cards Inc. plant in Lawrence for producing their holiday cards. This year's edition features a James Blake painting of the exterior of the Oval Office, plus a Psalm and message chosen by the Bushes.
The Republican National Committee is paying for the cards, which will be sent to the Bushes' friends, family and supporters, plus a long list of lawmakers, government staffers, foreign dignitaries and others.
This is the 39th presidential holiday card produced by Hallmark, and the sixth since President Clinton opted for American Greetings in his native Arkansas.
Hallmark's Lawrence plant, with more than 800 employees, also produced cards this year for Vice President Dick Cheney and his wife, Lynne Cheney.
Copyright 2018 The Lawrence Journal-World. All rights reserved. This material may not be published, broadcast, rewritten or redistributed. We strive to uphold our values for every story published.