Three Lawrence school administrators with some 103 years of education experience among them will retire at the end of this school year.
Sandee Crowther, Tom Christie and Janice Nicklaus officially notified Lawrence's school board Monday night of their upcoming retirements.
"It's a huge loss for us," said Sue Morgan, board president, referring to the retirements of those three, plus those of Debra Green, a Lawrence High math teacher; Ron Lang, an LHS English teacher and James Siebert, a West Junior High special education teacher.
Crowther, executive director of planning and program improvement, has been with the school district for 43 years.
"It's been my entire career," Crowther, 64, said Monday. "I student-taught here."
She joined Lawrence's school district in 1964 as a teacher of common learnings at West Junior High School and transferred to South Junior High in 1968.
During her career, she started the district's media literacy project, was the district's microcomputer coordinator and became staff development coordinator in 1985.
Since 1992, she has led professional development activities for teachers and improvement and accreditation initiatives.
Her duties also have included K-12 counseling, American Indian student services and elementary after-school programs.
"I have thoroughly enjoyed spending my entire career as part of the Lawrence public schools," Crowther said. "Through my long tenure, I continue to see children and grandchildren of former students who are making a difference in our community."
She said that it was a good decision to retire, but doing so would be difficult because she'd been there for a long time.
"I've known lots of people, and I've worked to help develop some programs," she said.
Under her leadership in 1997, the district earned one of the first U.S. Department of Education Awards for Model Professional Development, and in 1998, the National Staff Development Council named Crowther a distinguished staff developer. She earned KU's School of Education National Advisory Committee's Apple Award in 1999, and the National Staff Development Council's Distinguished Service Award and the Kansas Association for Supervision and Curriculum Development's Kansas Curriculum Leader Award in 2003.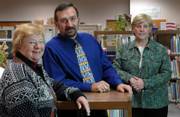 Teacher and principal
Christie, who is executive director of educational programming, has worked in the Lawrence school system for 31 years.
"This was my home. I'm going to miss the people an awful lot," Christie said. "We've managed to put together an exceptional support staff over here at the service center. I'll be missing them every day."
Christie, 54, said he hasn't decided whether he'll pursue another career.
He began his teaching career in 1974 as a math and science teacher at Deerfield School. In 1993, he served part time as an administrative assistant at Quail Run School and in 1994 became principal at Cordley School.
In 2000, Christie became executive director of curriculum and instruction for the school district. His title changed to executive director of educational programming-curriculum in 2003.
"I have thoroughly enjoyed working with our many talented teachers, outstanding support staff and dedicated administrators. It just doesn't get any better than this," he said.
Christie earned local, state and national recognition for his teaching. Lawrence schools selected him as Lawrence Teacher of the Year and Lawrence Master Teacher in 1990-91. He also earned the Kansas Master Teacher Award (1990-91), Kansas Presidential Award for Excellence in Science Teaching (1991, 1992), Milken Family Foundation National Educator of the Year (1992) and National Presidential Award for Excellence in Science Teaching (1992).
Title I math coordinator
Nicklaus, executive director of educational programming-instruction, is retiring after 34 years in education, including 29 in Lawrence.
"Serving Lawrence public schools has brought me great joy, growth, challenge and enlightenment," Nicklaus said. "I feel fortunate that my service here has allowed me to grow as a teacher, a coordinator and as a district-level administrator, and to be a part of a professional team with people who share my enthusiasm for education."
She joined the Lawrence school district in 1978.
Nicklaus helped start the district's first Title I math program at New York School.
In 1986, she also began working as the district's instructional skills coordinator, a post that became full time in 1989.
Since 2000, Nicklaus has served as the executive director of curriculum and instruction, a department that was renamed educational programming in 2002. She currently oversees information technology services, library media services, federal programs and English as a second language services.
Nicklaus received the Lawrence Teacher of the Year Award in 1984. She received the Lawrence Schools Foundation's Vicki Larason-Landman Memorial Award and Phi Delta Kappa's Service Key for Leadership, both in 1996.
Her leadership contributed to the district earning the U.S. Department of Education's National Award for Chapter I Programs (1988) and for Model Professional Development (1997).
Nicklaus also co-authored "Philosophical and Cultural Values: Applying Ethics in Schools," published by Eye on Education in the spring of 2000.
Copyright 2018 The Lawrence Journal-World. All rights reserved. This material may not be published, broadcast, rewritten or redistributed. We strive to uphold our values for every story published.