A line of customers snaked from the counter to the front door of the UPS Store this week. At the Lawrence Post Office, parcel mailing has jumped more than 25 percent compared with the weeks before Thanksgiving.
The cross-country rush of the holiday mailing season has begun, promising to keep mail sorters and package handlers at full speed until Christmas Day.
"It'll always be busy," Lawrence Postmaster Judy Raney said. "There won't be any slow times from now until Christmas."
She predicts the office's busiest days will be between Dec. 16 and Dec. 20.
"They'll be coming in and coming out at the same clip," Raney said.
The Postal Service expects to deliver 20 billion letters, packages and cards between Thanksgiving and Christmas, with the busiest mailing day expected to be Dec. 18, when more than 280 million cards and letters will be processed - more than twice the daily average.
At the UPS Store, 3514 Clinton Parkway, manager Paul Collins said he expects about the same, if not worse. The store will have customers at the counter, he said, every minute of every day, from 8 a.m. until the shop closes at 7 p.m., during the week before Christmas.
"It's beginning to come," Collins said. "It's that time of year."
But for on-time delivery at basic prices, most package handlers recommend a deadline of Dec. 16. Packages can be mailed after that and get there in time for Christmas morning if customers pay more for express shipping.
At the post office, for example, parcel post usually takes from six to 10 days. But during the peak holiday season, shipping can take longer.
To ensure that gifts arrive safely, Raney also recommends buying insurance. Pay the extra few cents to track your gift as it moves across the country, she said.
And of course: "Mail as early as you can," she said.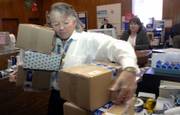 READY, SET, SHIP!
Keep these suggestions in mind when mailing holiday gifts:
¢ Get your packages in early. The U.S. Postal Service recommends packages using parcel post ship before Dec. 16.
¢ Choose a box with enough room for cushioning around the contents. When reusing a box, cover all the old labels and markings with black marker or adhesive labels.
¢ Avoid using twine or ribbon to tie packages. It can get caught during shipping.
¢ Use address labels, not brown paper wrap, which can be torn off.
¢ Hide all labels on retail merchandise so others can't see what is being shipped.
¢ Be ready to pay extra for last-minute delivery. Most package handlers offer express and same-day shipping, including Christmas Day.
Copyright 2018 The Lawrence Journal-World. All rights reserved. This material may not be published, broadcast, rewritten or redistributed. We strive to uphold our values for every story published.