The combined efforts of Katelyn Hobbs and Taylor Bird would have been enough for the Lawrence High girls basketball squad to come away victorious against Kansas City (Mo.) Van Horn on Thursday.
But the Lions had six other scorers to add to their margin of victory as LHS put away Van Horn, 92-36.
"I don't think I have been in a game that was this different in levels of play - it was pretty drastic," Hobbs said. "It wasn't as fun as a fast-paced, close game. It was a lot of fun to score a lot."
Despite sitting out the final four minutes of the game, Hobbs (21 points) and Bird (18) finished with a total of 39 points and three more points than the Falcons - whose scoring total was also 17 points shy of Lawrence's score at the half.
"That's awesome," said Bird when she found out she and Hobbs had outscored Van Horn. "That's pretty cool."
The three-point victory by the duo also caught Lawrence's leading scorer off guard.
"I don't think I've ever been in that type of situation where two of us win by three and the rest combined almost have 100," Hobbs said.
Lawrence coach Kristin Mallory attributed Hobbs' productive night against to her quickness.
"One thing Katelyn does very well is she gets up the court. She really extends that, and teams don't get back well," Mallory said. "She's going to get a lot of easy opportunities. ... And the good thing about Katelyn is she finishes those. She missed very few of her opportunities to score, and I think scoring 21 points shows that."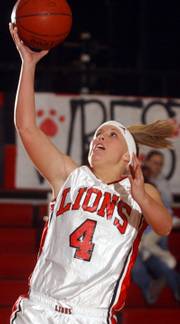 Hobbs did miss a very few shots in the game - two to be exact, one in each half.
Bird came up three points shy of Hobbs and one assist short of a triple-double as she accounted for 11 steals and also tied with Abby Vestal as top rebounder for the team.
"She (Bird) gets her hands in a lot of passing lanes and is a tenacious defender on the person with the ball," Mallory said. "She's an all-around good player and she definitely showed that today."
Most of Lawrence's baskets came in the fast break as Van Horn turned the ball over 33 times - 28 of them forced by the Lions - and finished with 27 rebounds opposed to LHS' 38 boards.
"The one thing that my girls did well was push the ball, and that's an emphasis for us this year," Mallory said. "So I wasn't going to take that from them, I wasn't going to make them pull it out. We were looking to push, and we got a lot of scoring opportunities because of it."
Three other LHS players - Tania Jackson (15), Abby Vestal (12) and Lindsey Murray (11) - also finished in double-digits, while starters Sydnei Tolefree (4) and Hannah Somers (6) - who had six assists - joined bench player Danielle Bird (5) as the remaining scorers.
The Lions will travel to K.C. Washington on Tuesday.
Copyright 2018 The Lawrence Journal-World. All rights reserved. This material may not be published, broadcast, rewritten or redistributed. We strive to uphold our values for every story published.