Lawrence High's Brandon Goodwin tried several other sports, but wrestling became the best fit for the 4-foot-10, 59.8-pound seventh-grader.
"I tried going out for football. That didn't work," Goodwin said. "I tried basketball. Nothing worked because I was so small."
Wrestling, it turns out, was a wise choice. The 5-foot-7 senior now competes in the 103-pound weight class. Goodwin finished fifth in the Kansas 6A state championship last season while setting the LHS record for technical falls (a differential of fifteen points that ends the match as a de facto mercy rule) with 20. Perhaps most impressively, he finished seventh in the junior nationals at Fargo, N.D., while weighing 98 pounds.
"That's one of the biggest tournaments in the world," he said. "I was pretty proud of that."
He not only excels at wrestling but relishes the sport's individual nature, which has an athlete compete mano-a-mano against his/her opponent.
"I like the hand-to-hand combat," Goodwin said. "If you wrestle that guy, you can just kick his butt. I love that premise."
Despite his small stature, Goodwin does not cower from anyone. During practice he picks matches with bigger wrestlers. As a 90-pounder, he sought out LHS wrestling coach Mark Dulgarian, who is two-and-a-half times Goodwin's size.
"That's his best attribute is his confidence," LHS senior Kyle McTaggert said.
Goodwin, a virtual rolodex of techniques, moves and countermoves, also flourishes because of his wrestling knowledge. His father, Jim, who coaches the Lawrence Coyotes, a club team for wrestlers ages four to 16, honed Brandon's ability.
"Around the house he was always telling me stuff," Brandon said.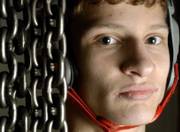 The tutelage has helped Goodwin, who developed a powerful headlock through offseason Greco-Roman wrestling, become fundamentally sound in addition to possessing the requisite size and speed combination.
"There are a lot of people who can come in, being tough, wrestling kind of animals," Dulgarian said "Over and above that is the time he spends in the sport as part of being a student of the sport."
The industrious senior will continue his studies at Dakota Wesleyan University in Mitchell, S.D., with whom he signed a letter of intent Monday.
He chose the 750-student, NAIA school over others, including Central College (Iowa) and Wabash College after first meeting Wesleyan coach Josh Hardman during junior nationals and becoming enamored with the up-and-coming program.
"It's kind of a small school," he said. "But I was just fascinated with the class sizes and the wrestling coach and the wrestlers. They were all really nice."
An aspiring history teacher and wrestling coach, Goodwin plans to major in secondary education and history. With his collegiate path sealed, he can concentrate on school and wrestling the rest of the year.
Goodwin, who has set a goal of becoming a state champion, has a 5-1 record this year but attributes his one loss of the year - to Manhattan's Jeff Vesta - to worries over his college decision and poor eating habits. Don't expect such losses to become commonplace.
"Hopefully that will be the only one," said Goodwin, spoken with the self-assuredness that belies his size.
Copyright 2018 The Lawrence Journal-World. All rights reserved. This material may not be published, broadcast, rewritten or redistributed. We strive to uphold our values for every story published.