Former Lawrence school board member Austin Turney is planning to celebrate a birthday, but it's not his. It's Cordley's - the school he attended seven decades ago.
Turney, who attended the elementary school from 1934 to 1940, is one of hundreds of former students expected to attend Cordley's 90th birthday party Sunday afternoon.
He fondly recalls his third-grade class at Cordley School, 1837 Vt.
He remembers a teacher, Miss Harshberger, who filled the year with colorful lesson plans built around her summer trip to Hawaii.
"We made Hawaiian food and we made feathered capes out of material and crepe paper," Turney said. "We did all kinds of things."
The school will have a reception and open house between 2 p.m. and 4 p.m. Sunday, said Kim Bodensteiner, Cordley's principal.
"We know we have alumni coming from out of state," Bodensteiner said. "I don't know if we'll have 50 or 500. It could be anywhere in between. I think the weather is going to be a factor."
The cake-and-punch celebration begins at 2 p.m., when Superintendent Randy Weseman will speak about the history of the building, which opened in 1916.
At 2:30 p.m., Dave Loewenstein, a local mural artist, will speak about the two-story mural he and Cordley students painted on the north outer wall of the building.
The mural depicts the Rev. Richard Cordley, founding pastor of Plymouth Congregational Church, and his work in the Underground Railroad in Lawrence. It was a project supported by the Kansas Arts Commission and Lawrence Arts Commission.
At 3 p.m., Harold Riehm, a historical actor who portrays Cordley, will perform and tell about Cordley's contribution to education in Lawrence.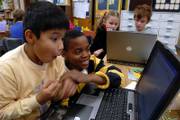 "Throughout the afternoon, there will be exhibits in the gym, in the library and in the art room of memorabilia, artwork and scrapbooks that are in the archives of the Spencer Library (at Kansas University) that date back to the beginning when the school was opened," Bodensteiner said.
Also on display will be scrapbooks of drawings, photographs and information about Cordley students from the 1920s and 1930s.
This semester, former Cordley staff and students visited the school and were interviewed by fifth-graders. Those interviews are on display at the school.
"We have people who attended here 60 years ago and kids who are in high school now who attended here, so it spans all the decades," Bodensteiner said.
During the open house, current sixth-graders will give tours of the school.
Bodensteiner estimated that thousands of students have attended Cordley.
"It's amazing how many people in this town have connections with Cordley," said Sandy Sanders, a retired teacher who taught most of the grade levels for nearly 30 years at the school. "It's just a rare place in terms of people having fond memories and wanting to come back."
Sanders said the school always had students from various socioeconomic and ethnic backgrounds.
"It's always been a great place, a wonderful mix of kids and families and teachers," she said.
A look at Cordley School, 1837 Vt.
Cordley School Principal Kim Bodensteiner provided the following information about the school's history:
¢ A cornerstone was laid in 1915 and the school opened in 1916, making it the oldest continuously operating public school in Lawrence.
¢ Originally built with two floors, the red brick school received a third-floor addition in 1928.
¢ Enrollment swelled to more than 600 students in the late 1940s and early 1950s; some classes met in a room over the grocery store at 19th and Massachusetts streets.
¢ A one-floor classroom and a gymnasium/lunchroom were added to the east and north of the original building in 1950.
¢ In recent years, the office has been renovated and upgrades were made to the school's rest rooms to make them accessible for people with disabilities.
¢ This year, some students in the district's English as a Second Language program were moved from Hillcrest School to Cordley. There are now 28 ESL students, speaking a total of 17 languages, at the school. About 100 ESL students are expected in the next few years.
¢ Enrollment this year is 228. About a third of the students are transferred in by parent choice from other areas of the city.
Cordley School information
Copyright 2018 The Lawrence Journal-World. All rights reserved. This material may not be published, broadcast, rewritten or redistributed. We strive to uphold our values for every story published.