McLouth — In the state that spawned the hatchet-wielding temperance champion Carry Nation, Prohibition has had a longer legacy than almost anyone could imagine.
Now, 125 years after Kansas became the first state to adopt a constitutional amendment banning alcohol sales, Prohibition is drawing its last gasps.
Today, there are only four "dry" cities left in Kansas - and McLouth, population 849, is no longer among them.
"McLouth used to be so small we had to share the town drunk with Oskaloosa. Now maybe we'll have one of our own," longtime resident Paul Shirey said.
On Aug. 1, Charles Karmann opened the first liquor store in this Jefferson County town that anyone can remember. And business has been good since day one, when 11 people stood in line waiting for the doors to open, the owner said.
Customer Artie Owen set a bottle of vodka on the counter Tuesday and prepared to hand over her money.
"I'm glad you guys are here," the McLouth woman told Karmann. "I used to have to drive over to Oskaloosa to buy liquor."
Quiet change
Like many Kansas cities since the state repealed Prohibition in 1948 and replaced it with the less inclusive Liquor Control Act, McLouth retained an ordinance preventing the sale of liquor. There were 46 dry Kansas counties as recently as 1998.
But changes made by the Kansas Legislature during the last two years to a number of liquor laws left a legal opening for liquor stores to open in previously dry cities unless action was taken by municipal governments to stop them.
One change in the law stated that effective Nov. 15, 2005, all cities became "wet," and Kansas Alcohol Beverage Control could issue retail liquor store licenses to qualified applicants. To remain dry, a city had to adopt a new ordinance sometime between Nov. 15, 2005, and Feb. 15, 2006, prohibiting retail liquor stores.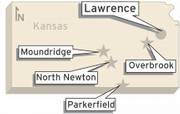 Only four cities have notified ABC that they have taken action to be dry, director Tom Groneman said. They are Overbrook, Moundridge, Parkerville and North Newton.
Karmann took advantage of McLouth's failure to adopt a new ordinance.
"The law had changed, and it just made sense to do it," he said. He also pointed out that the store is a new business for a town that could use more commerce to bring in tax dollars.
Karmann left his job at Standard Beverage Corp. in Lawrence to run the liquor store he owns with his wife, Amanda. It is next to a video store he and his parents already operated.
Liquor law mellows with age
1851: Maine is the first state to pass Prohibition. 1880: Kansas is the first state to outlaw through a constitutional amendment the sale and manufacture of alcohol. 1919: National Prohibition amendment passes. 1933: U.S. repeals the Prohibition amendment. 1937: The Kansas Legislature loosens liquor laws to allow sale of 3.2 beer. 1948: Kansas repeals statewide Prohibition. 1965: The Kansas Legislature acts to legalize "bottle clubs" operating illegally by passing the private club law. 1979: A Kansas attorney general's opinion leads to passage of a law allowing the sale of liquor by the drink in private clubs. 1986: The state passes liquor by the drink, county option. That year, only 39 of the state's 105 counties approve liquor by the drink. Most of the state remains dry. 2002: Unified Government of Wyandotte County and city of Edwardsville pass charter ordinances allowing Sunday sales of liquor. 2005: Legislature repeals the statewide ban on Sunday sales. All cities become "wet" unless they adopt an ordinance banning liquor stores by Feb. 15, 2006. Now: Only four dry cities remain in Kansas.
Sources: Kansas State Historical Society, Kansas Department of Revenue and the Kansas Collection
Web site: www.kancoll.org.
A petition
State law still allows for cities like McLouth to ban retail liquor stores, but it must be by public vote.
A petition is being circulated in McLouth to bring the matter to a vote in November. It must be signed by at least 69 registered voters to get the question on the ballot.
People are asked if they want to be able to vote "yes" or "no" on whether the following resolution should become a city ordinance:
"No retailer's license shall be issued for premises within the city of McLouth, Kansas, for the sale at retail of alcoholic liquor in the original package."
Karmann said he is confident that if the issue goes to a vote, he will win.
Unheard voices
Sherry Alterman said she typed up the petition and had collected more than 69 names so far. She hopes to collect 100 signatures before turning in the petition.
Alterman also is the director of Celebrate Recovery, a program for people trying to overcome bad habits, including drinking problems. Because she has seen the problems alcohol can cause, Alterman said she doesn't agree with drinking. The voters, however, should have their say, she said.
"McLouth has been dry for years," Alterman said. "I feel like it needs to go to a vote because all the voices have not been heard."
Though Alterman operates the nondenominational recovery program out of McLouth Church of the Nazarene, the church is not taking sides or campaigning against having a liquor store, the Rev. David Showalter said.
"I don't think, personally, it is a church issue at all," he said. "It's a community issue. I think a lot of people in the community want to voice their opinion."
At the same time, Showalter said he certainly isn't a proponent of alcohol.
"I don't think there are any redeeming qualities to the alcohol industry," he said. "I think the alcohol industry produces more heartache and pain than produces joy, peace and health."
Despite the petition, the new liquor store doesn't seem to have riled up many people in town.
"I don't drink, but it doesn't matter to me. I'm neutral," longtime resident Shirey said.
At 18, Joel Gill can't buy liquor, but he is quick to note that if it goes to a vote, he is eligible to cast a ballot.
"I couldn't care less," Gill said of the issue. "It's just a liquor store. If you want it, buy it. If you don't, don't buy it."
Copyright 2018 The Lawrence Journal-World. All rights reserved. This material may not be published, broadcast, rewritten or redistributed. We strive to uphold our values for every story published.