Rick Sells hears talk of another health club opening in Lawrence, and he shakes his head.
It's the same talk he's been hearing for years - from a variety of different operators, be they national companies or local operators - and each time he offers the same reaction: If I'm barely making it, what makes you think you can, too?
"With everything going on around me, it makes you think: Do I want to keep fighting this?" said Sells, who emphasizes that he's not actively trying to sell the Lawrence Athletic Club, only listening to offers as he always does.
But such talk is getting louder these days, as Topeka-based Maximus Fitness & Wellness is letting people know that it's serious about making a play for the Lawrence market.
Maximus owner Scott Huston sees the Lawrence population's youth, vitality, historical growth and steady and healthy incomes and figures he can make a go of it.
The plan: Either buy out Sells, or open a place of his own - possibly in the former home of Food 4 Less on South Iowa Street.
It'll be another six months to a year before there's "something happening," Huston said, but he acknowledges that he's been talking money with both Sells and the owners of the Food 4 Less site, who just also happen to own a building he occupies in Topeka and another building that he's just converted into a large health club in Leavenworth, which opens next week.
Lawrence, situated between the two cities, looks to be next.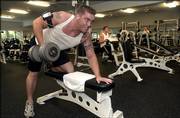 "We've been talking, and we've been looking," Huston said last week. "It's something that we want to do. : If we make the decision to come to Lawrence, we'll do well coming there, or we wouldn't come."
If Huston decides against buying Sells' clubs and instead opts to open his own place, the Maximus in Lawrence would not be the only place at the same address. Huston's plan calls for his health club to be surrounded by separate-but-complementary businesses: a physical therapy rehabilitation clinic, a hair salon and day spa, a tanning center and a coffee-and-sandwich cafe.
Sells knows the concept but doubts its viability. Lawrence already has plenty of spas, physical therapists, tanning operations and restaurants.
Sells has 127 employees and nearly 1,700 members - a membership level he says can't expand much more in town, given all the other options available to workout-prone KU students and others.
Huston's Maximus, he said, just might be overkill.
"He can open something bigger, better, newer, badder, but can he get the people?" Sells said. "My biggest fear is he comes to town, opens up, and then he can't make it, I can't make it, and it puts us all out of business. What happens to the people?
"If I go broke, I just throw up my hands and go get a job somewhere. But what about everyone else?"
Copyright 2018 The Lawrence Journal-World. All rights reserved. This material may not be published, broadcast, rewritten or redistributed. We strive to uphold our values for every story published.