From watermelon feeds to state appearances, high school volleyball in Lawrence has just as much tradition as any other sport in town.
And all four city schools would like to add to that this season.
Veritas hopes to improve on its fourth-place state finish of a year ago.
"We have five of our starters coming back and some girls that are coming up are real strong players," Veritas coach Kyle Billings said. "This year we made our schedule to play a little tougher teams and trying to really push the girls. : So our goal is to win (state). There's no reason why we can't."
Though Free State only lost three starters from a year ago, two of them were setters. But there is little concern from Firebird coach Nancy Hopkins.
"We've got a couple of setters that have come up from (junior varsity), and they are doing really well, so I think we'll be OK," said Hopkins, whose squad resurrected the tradition of a watermelon feed for athletes in fall sports that don't have the luxury of practicing in an air-conditioned gymnasium. "A couple of them played some varsity last year, just didn't get a lot of playing time. : We have a lot of height and a lot of attackers, so we should be pretty strong."
After losing to Olathe Northwest in the finals of sub-state a year ago - a match which Hopkins said her squad shouldn't have lost - the Firebirds will turn to a trio of seasoned seniors.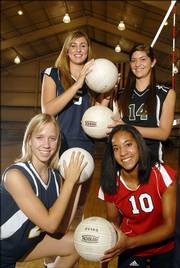 "The three seniors this year that were on varsity last year are very determined in what their goals are and what they want to do, and they're going to drag those other kids kicking and screaming, I think, but they're going to get them there if there's anyway they can," Hopkins said. "The (underclassmen) are really looking to those seniors to guide them. And sometimes they'll listen to the seniors more then they'll listen to me - which isn't necessarily a bad thing."
At Lawrence High, coach Molly LaMere finds herself in a similar situation as Hopkins when it comes to the setter position. LaMere returns four starters, but she is "going to be hurting with losing a great setter and some great middles."
"We have some great people filling in, and girls that just picked up right where they left off : so I think they'll fill in really well," the LHS coach said. "We had a really, really young team last year, and a lot of those kids were starters. So they do have the opportunity to take some of that knowledge they have from last year and put it right into the first game this year."
According to LaMere, the squad has taken a huge step in becoming a solid unit - and not solely from the amount of talent.
"That's what's so great about this team - they have a great chemistry off the court and when they get on the court," LaMere said. "We have such a wide range of personalities that just mesh on this team, so I'm very excited right now."
While Veritas, Free State and LHS are young, Seabury by far has the youngest group. Ten of the 14 members are underclassmen.
But there's something else the Seahawks have that has coach Craig Friedrichsen excited for the season to begin - height.
"Molly (Thurman) and Melissa (Burch) both played middle hitter for us last year, but because most of your swings come from the left-front, I moved them out to the outside so they get to swing more," Friedrichsen said. "So I think it gives us a real advantage, because they can hit the ball hard, and they hit it from high above the net."
Friedrichsen said he might rely on as many as eight freshmen. What they lack in height and experience, they make up for in talent, Friedrichsen said.
"As a class - from one through eight - it's as much talent as we've ever seen out of ninth-graders," he said. "They're getting better. I look at the seniors this year and think, 'Three years ago, they weren't playing as well as the ninth-graders are playing this year.' So that's something we just have to work on."
Seabury's freshmen will get their first taste of high school volleyball tonight at a quadrangular at Elwood.
Copyright 2018 The Lawrence Journal-World. All rights reserved. This material may not be published, broadcast, rewritten or redistributed. We strive to uphold our values for every story published.