Soon, a lot of congressmen will have their eyes on Alex Kim, an 18-year-old junior at Lawrence High School.
Kim's self-portrait was one of about 350 works of art chosen for display along a tunnel that connects the U.S. House of Representatives with the U.S. Capitol in Washington, D.C.
The pieces are chosen by in-state committees appointed by each participating congressman.
U.S. Rep. Dennis Moore, D-Kan., announced Kim's selection during a Wednesday appearance at LHS.
"We should all be proud of Alex," he said.
Moore, whose district includes east Lawrence, said he often takes constituents on tours of the Capitol.
"They always want to see the Kansas entries," he said, "and I always point them out."
The collection is rotated annually.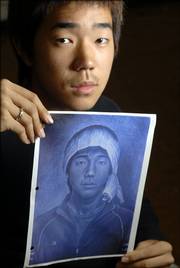 Kim thanked his art teacher, Wendy Vertacnik, for entering the 19 by 25-inch charcoal drawing.
"I didn't even know about it," he said.
Vertacnik said she submitted drawings by about 10 students.
"Alex is an ideal student," she said. "He works hard, he stays after school, he completes his assignments, he's conscientious."
Kim was born in Connecticut but grew up in South Korea, where his parents - his father is a college professor; his mother, an interior decorator - still reside.
The past three years, Kim has lived in Lawrence with his brother, Alfred Kim, a student at Kansas University.
After next year, Kim said he's expected to spend two years in the South Korean military.
More about the competition
"I haven't thought about college yet," he said.
About 30 students watched as Moore chatted with Kim.
"I'm not an artist," Moore told the group, adding, "next time, I'll bring my guitar."
Jessica Dirks, a student, asked Moore whether he would increase funding for LHS's art programs.
He replied: "I'm only one of 435 members of Congress, but I can tell you that I support public education, and that includes art."
Copyright 2018 The Lawrence Journal-World. All rights reserved. This material may not be published, broadcast, rewritten or redistributed. We strive to uphold our values for every story published.